Fernie season long ski & snowboard instructor course - Week 1 diary
All of our 11 Week Ski Instructor Courses are now under way and our Fernie Ski and Snowboard Instructor course crew are just settling in for the season. Read on to find out how their first week went...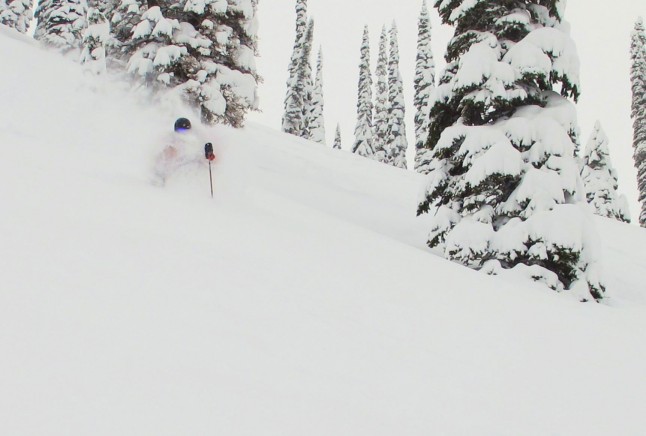 'Orientation Day' - January 20th'
Today 78 people from 10 different countries came together on Day one of what is going to be an adventure of a lifetime. We kicked it off early with two of the best, James and Jhes passing on some of their wisdom on what to buy and where.

Later we toured the town and resort with some of our instructors where they showed us all the best kept secrets. Big Bang Bagels was a favourite lunch stop for all. They are the best bang in town!

After a big day of information it was time to relax, have a drink and enjoy our first meal together.  The host officially introduced the instructors. We have the best of the best here in Fernie. Can you believe our instructors have been on snow for a total of 4,739 weeks (that would add up to nearly 100 years of continuous experience!). Our lead ski instructor has been instructing for 650 weeks alone!
'Let the Games Begin' – January 21st
We don't waste any time here at Nonstop. After only one day in Fernie it was time to hit the slopes. We couldn't have asked for any better weather, the week saw super sharp groomers and clear bluebird skies.

Nonstop in Fernie is not just about the skiing and snowboarding, there is so much to do in the area. Monday night we had our 'Extra Activity' signup night. You can do anything from Avalanche Safety Training to a trip to Whitefish Resort in Montana, USA to ripping around on an Artic Cat Snowmobile in Island Lake Lodge Resort.

Tuesday night was all about injury prevention and staying safe on the hill. A big shout out to Kayle, an athletic therapist from Fernie Athletic Therapy who gave us plenty of helpful tips for keeping ourselves healthy and injury free. Another big shout out to Steve Ruskay from Fernie's Ski Patrol team who gave us a little insight into the life of a ski patroller and what to do to ensure we stay out of trouble on the hill.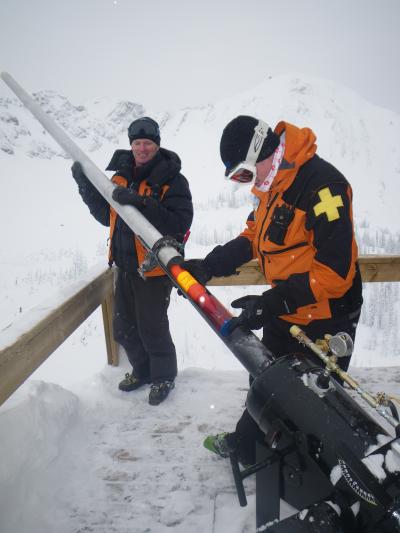 '66 Clickety Click….BINGO!' – January 22nd
The Northern's weekly Bingo night has fast become a real favourite for the Nonstoppers this year and tonight was the first Bingo night experience for those on the 5 and 11 week programs.

The night was all about Nonstop Staff. We had Harriet and Max from the UK office in town and they took the limelight. Harriet was the first of the gang to get Bingo - it was a controversial bingo but they still gave it to her. She was in a four-way tie for it and what better way to decide the winner than a Rap Battle. One guy left before the first beat dropped. A smart move in the end as Harriet schooled the others taking home the prize.

Max was the next to win from the gang and he too was part of a four way tie. What's the next best way to settle a tie you say?…. A dance off! Max was carrying the weight of Nonstop on his shoulders as he attempted to win us 64 sausage rolls! I'm not sure where it came from but Max tore up the dance floor with some break dance moves, some 70's moves and some moves that even after hours searching the internet I still don't know where they came from. Whatever they were they were good enough to win us 64 sausage rolls!

YOUTUBE[vZndHTEqYF0]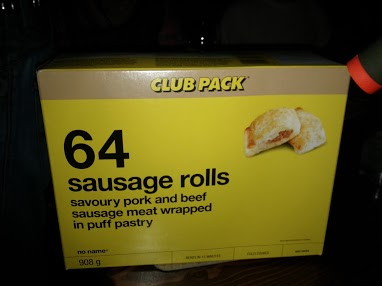 'Party People!' – January 23rd – 24th
We'd met the instructors, hit the slopes for a few days and now it was time to hang with the locals. Commit Snow and Skate threw a banging party on Wednesday night. Pizza, beer and tunes, what more could you ask for? Oh, did I mention it was in their shop! They pushed back all their clothing racks and opened up the shop floor for some indoor skating! Thank God for the day off the next day as we kicked on to the wee hours of the morning!

And it didn't stop there! Edge of the World were up next with another killer party on Thursday night. They too opened up their shop for the Nonstoppers providing drinks and food and some quality entertainment with a fuse ball table and ping pong table inside the store!

A huge shout out to Adam, Chunky and their team at Commit Snow and Skate, and to Greg and his team at Edge of the World for making everyone feel right at home in Fernie.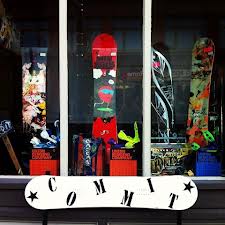 'Rise and Shine for Canada AM' – January 24th
After 3 days of fun in the sun on the slopes it was time for some good old community spirit! Canada AM, a very popular morning show in Toronto, was on tour around the resorts of Western Canada and Fernie was one of their major stops. Dave and I had the buses running super early Thursday morning….. 4am to be exact! We were a little nervous about whether we would see anyone after the party at Commit Snow and Skate but we should have known better then to doubt our Nonstoppers. We had a great turnout for the live broadcast at the Resort.

There was a lot to keep us entertained. There was ziplining, night skiing and a huge free breakfast for everyone that turned up. At one stage the gun used by Ski Patrol for avalanche control was being used to fire t-shirts in the crowd.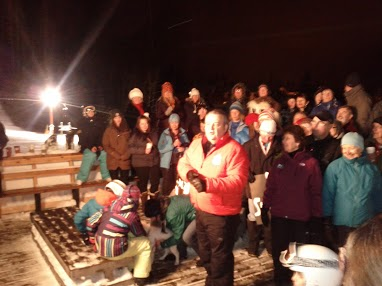 'What a Comeback!' – January 25th
Tonight was our first official Social of the season and we were off to the Eddie Mountain Arena to cheer on the Fernie Ghostriders as they took on Creston. The Nonstoppers brought a whole new life to the arena with plenty of cheering and some classic heckling!

Fernie were looking down and out trailing Creston 2-0 deep into the 3rd and final period of the game. But being Family weekend for the Fernie club the boys were keen to do their families proud and were not going to go without a fight. Fernie's Captain, Josh McKissock scored twice in the 3rd period to inspire a huge come from behind victory. The final score was 4-2 for Fernie!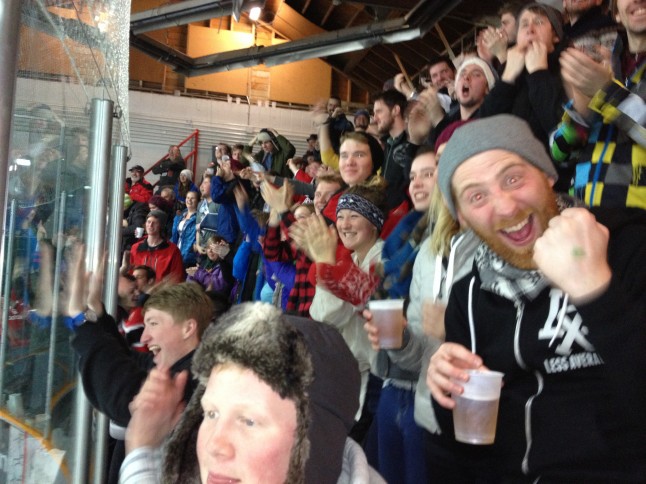 Unfortunately the next night Fernie were unable to hold out to Kimberley; losing in the dying minutes of overtime! The only winners out of that night were Fernie Brewing Company who went through 15 kegs in two 20minute periods of hockey!

'Ode to the Griz' – January 26th and 27th
'WOW!' You say, 'What a fun and entertaining week. But, what about the snow?' Well, after a week of bluebird days and fast, sharp groomers, it was time for the world famous Fernie Factor! Fernie was not always known for its snow. Legend has it that it once got very little snow, but that was then and this is now. Today we have the legend of "The Griz" to thank for the 37ft of powder each year.

Saturday morning we woke to a lovely 17cm of snow, the perfect amount to get the legs back into skiing some powder.

Sunday morning The Griz meant business. We all woke to a huge 34cms of powder. And it was not ordinary powder, it was the champagne powder that has made Fernie famous world wide.

During the week, if you weren't shredding pow on the hill then you were tearing up the trails on an Artic Cat Snowmobile. We had 3 groups head out with Prestige Tours exploring the Fernie backcountry, which included a trip to Island Lake Lodge. Island Lake is world famous for it's Catskiing and has had some very popular celebrities visit in the past 12 months including Travis Rice and Justin Timberlake!


Snowmobiling in Fernie
Well, I don't know about you but I am exhausted! It has been a huge week, a GREAT week! And guess what?? We've got more in-store next week with some curling, road hockey, AST training and a photography course with the very talented Mark Gallop.

Happy Shredding!

P.S.

It's dumping outside right now!

Big thanks to Adam for writing the best course diaries, hope you want to find out more about our ski and snowboard instructor courses now!