Work as an adaptive ski instructor in Banff
The Rocky Mountain Adaptive Sports Centre (RMASC) is seeking part time instructors for its 10 week adaptive ski and ride program for 2014 and has asked Nonstop to invite their alumni to apply...

The RMASC 10 week program is a ski and snowboard program for individuals with a disability.  It runs for consecutive weekends from January 4th/5th 2014 until March 15th/16th (skipping Family day weekend).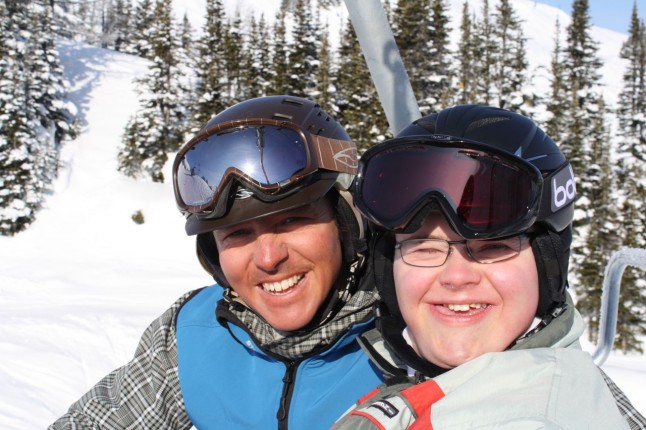 Rocky Mountain Adaptive Sports Centre (RMASC) Seeks Nonstop Instructors
The program runs out of Sunshine Village Resort in Banff, Alberta, Canada. Instructors will work one to one with 2 participants a day, one in the morning and one in the afternoon.  RMASC students will have a physical, cognitive or developmental challenge.

As part of the 11 week ski instructor course, Nonstop clients have the opportunity to take the Level 1 qualification with the Canadian Association for Disabled Skiing (CADS). Lucy took advantage of this training as part of her course in Banff and talks about her experience on our blog here.

This season RMASC have a few positions available for part time instructors for their 10 week program. You can commit to Saturdays or Sundays for the program or both days (1 Thursday and Friday position also available).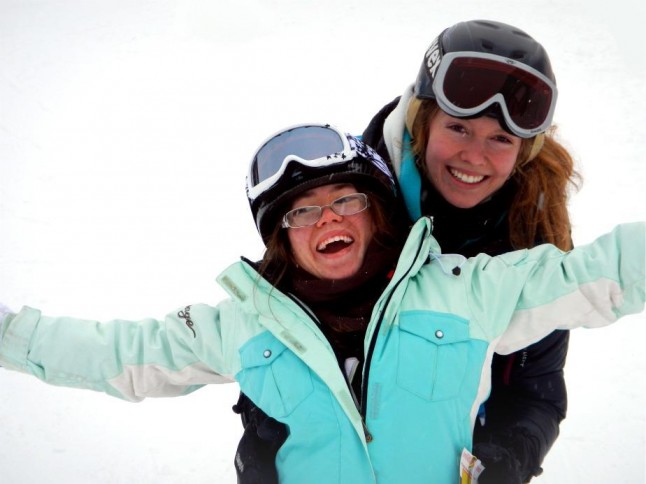 Jessica has never been so happy...
These part time instructors will also get first refusal to work any extra private lessons and camps that run during the whole season outside of the 10 week program.

Employment involves:
A part time, PAID Contract with Rocky Mountain Adaptive Sports Centre
Full training relative to the individuals you will be working with
Season long Adaptive Training Sessions
Adaptive Specific Training, Mono Ski, Bi Ski, 4 and 3 track, VI, Intellectual etc.
Sunshine Village Season Pass
Opportunities for extra work above your contracted 1 or 2 days per week
Opportunities for CSIA Training
Opportunities for CADS Training and certification
Opportunity for Summer Work and Future employment opportunities with RMASC.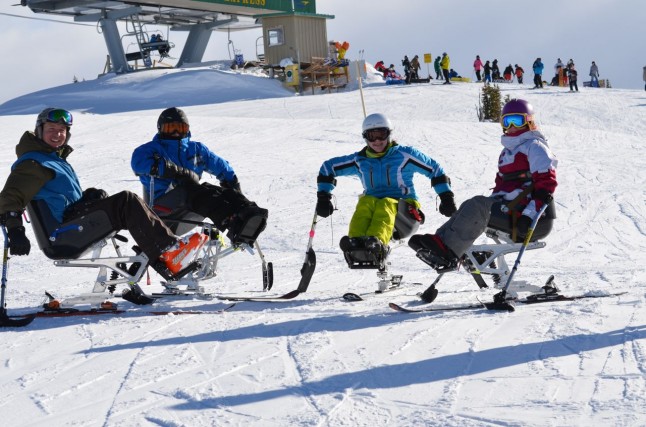 Sit Ski Fun
If instructing is not for you but you would still like to be involved, RMASC are always looking for volunteers throughout the season to support participants and their growing programs.

If any of these opportunities interest you, then please contact Jamie at RMASC for more info (jamie@rmasc.ca) ASAP with a copy of your resume. The application deadline is 28th November 2013. Candidates must have a minimum of CSIA 1/CASI 1 or international equivalent and for non Canadian residents have a valid working visa. (CADS certification is adequate for instructors with a disability).

For more information on RMASC check out their website: www.rmasc.ca

If, like Lucy you would like to qualify as an adaptive ski instructor, you can do this as part of the instructor qualifications within the 11 week ski instructor training courses with Nonstop.

Images courtesy of RMASC.