Emily recounts the 1 Week Freestyle Course in Banff
So all of our courses are now over (booo), the last of which was our Banff 1 Week Freestyle Course. Emily explains why it's the perfect time of year for hanging in the park...



The last course in Banff has finished for the season and it ended with some real on-snow action in the park (and some cheeky surprise pow stash runs at Sunshine Village)! This year's freestyle course  was taught by Brian Baker (Level 4 instructor enjoying his seventh winter teaching for Nonstop) and Tom Bazley (another Level 4 instructor doing his first Nonstop season – welcome to the team!).



Lessons were all about pops, ollies, spinning, grabbing and sliding, not just on snow but plastic and metal boxes, tubes and rails! Check out the photos to see what the group were throwing down.



It was great to have Ben Simpson, fresh off his season in Fernie, come and sample the delights of the parks in Banff after a season of hucking himself off cat tracks with the crew in B.C.  The large jumps were top of his hit list and it showed he was used to getting a lot of hang time, sending it off the big jumps.  Jamie came out from the UK just for freestyle course after some gap year work in Africa. Spring held off on blessing the group with warmer temperatures and the course got a little on the chilly side at -18 on one day. But along with the cold came a fresh dump of snow – a nice surprise for a spring shred! Jamie, Audrey and Ben received some excellent coaching from Tom and looked comfortable in the air going for grabs and rotating 1s and 3s. I challenged someone from the group to go for a Truck Driver and Ben stepped up to the mark!



The snowboarders also matched the talent of the groups skiers and were spinning and grabbing with style! Luke had the laid back 'gangsta' style on lock and with his partner in crime Tony's board slides, these boys rode smooth like butter! Pat and Will were on a spin to win campaign all of their own. Will was a bit camera shy but I snapped his 3s anyway and Pat really turned it on for the camera with some great shots even to rival Brian's and his vest! Check out the stump grab! Is it a World first?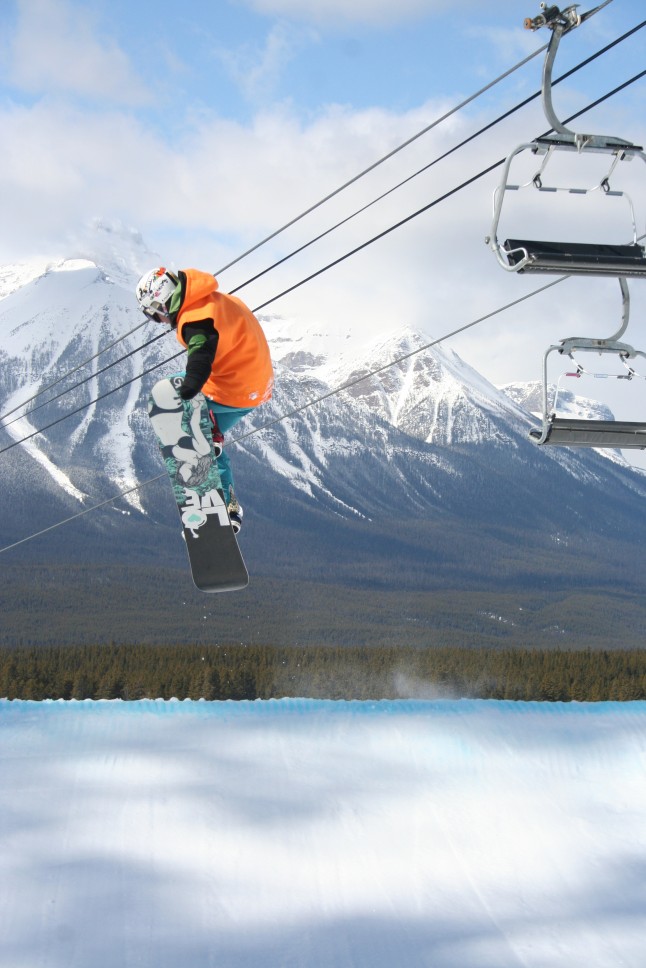 The weather warmed up towards the end of the week. Sunny park laps in spring – you just can't beat it! Hiking a box or jump with friends while the snow softens up in the morning and lapping in hoodies all afternoon is why the spring shred is my favourite time of year. Following it up with some hydration on the sunny deck of The Kokanee Cabin, looking back at pictures from the day and laughing at the comedy bails and you've got yourself a perfect day.



We took a hike up Tunnel Mountain on the last evening to say goodbye to the Bow Valley. I am sure it won't be the last visit for any of us. Until next time…

There definitely will be a next time and if you want to be part of it and learn some new ski or snowboard tricks then get in touch, because we can make it happen!