Becoming a snowboard instructor in Canada, the UK, New Zealand and Europe!
It's always amazing to hear about the adventures of our NONSTOPers after qualifying as instructors with us. James Ward took of our snowboard instructor courses and, since then, has been around the world progressing his instructor career.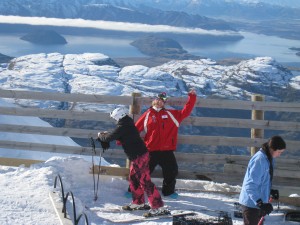 It's now 2011 and i'm currently in Wanaka, New Zealand, instructing at Treble Cone and training for my ISIA - what a ride!
In the winter of 1987 I was a mere 3 years old when my dad took myself and my two older brothers skiing to France. Having been a skier all his life and successfully taught my two brothers, my dad decided to get me on the skis and teach me the basics himself. At such a young age, it was no doubt quite a challenge for my dad, but we were both happy to give it a go. Throughout the course of the holiday, I would spend two days with my dad, then three days in ski school, then the rest of the trip back with my dad and my brothers, practising all the things I'd learnt. Which at the age of 3 was probably not a lot.
Following the success of our first trip together and the amazing time we all had skiing together, I was fortunate enough to be able to do the same thing every year from then on with my dad and two brothers. As a youngster, speed was my only friend and with that, nobody else on the mountain existed. Needless to say I was a handful on skis, but what else are they good for!

During the winter of 2000, In Jackson Hole, Wyoming, I found that my passion for skiing and just going fast was subsiding, and it didn't help that I could never seem to find a comfortable pair of ski boots anymore. So having winged for the last time, my dad suggested I try snowboarding.

On a perfect blue bird day on the slopes of Jackson with my instructor who resembled Brad from Neighbours, I was re-born. Not only did I have less equipment to carry and really comfy boots, I was clearly now the coolest guy on the slopes (or so I thought), especially compared to all those skier losers. Having found this new and amazing feeling of snowboarding, I couldn't get enough. So during the course of that holiday I spent every second I could on my board, fully focused on improving, during lessons and with my dad and brothers, so I could show them my new skills.

Over the next 6 winter trips, including one with my School, I would have a few days of lessons and a few days of my own practice time. During one trip in St. Anton, Austria, I managed to badger my dad into buying me a full set-up: board, boots and bindings. This reallygave me a boost in confidence, which led to a boost in my riding abilities, which just fuelled my passion for this sport. So on a sunny day in the UK renovating a house with my dad, he suggested I spend a whole winter away getting better at snowboarding and learning to teach it. Without hesitation I jumped at the chance, and found the NONSTOP snowboard and ski instructor courses, in a place where a snowboard was meant to be ridden - Fernie, Canada.

It was AWESOME!! Every day on the 11 week snowboard instructor course was the best day of my life. With 5-days of tuition with the best riders in town and two days free to ride yourself, you can progress very quickly. Top that off with superb accommodation, great food, and of course an endless supply of powder and riding with groups of other boarders with the same passion as yourself. You can't go wrong! During my time in Fernie in 2007, I managed to gain CASI Level Two Snowboard, and Level One Freestyle Instructors certifications. I also got the chance to go back-country snowboarding and enjoyed a weekend trip to Banff, riding Sunshine and Lake Louise.

Having arrived back in the UK in May 2007, I was fortunate enough to gain a place at Chill FactorE, the UK's newest and best indoor snow dome, which was due to open in November that year. Having only recently qualified as an instructor, and with no actual teaching experience, I was taken on as Snow Crew. But within a very short amount of time, because the place was so busy, I was asked to teach. Having only shadowed a few lessons there I was extremely nervous. But within seconds of starting my lesson I found myself composed and loving it. The feeling of knowing that all these people were relying on me to teach them snowboarding was exhilarating, and the look on your students faces when they are buzzing off their progress is unbelievably rewarding. From that first lesson onwards I would grow more confidant as an instructor and with my own riding, learning everything I could from all the other instructors working there. Within a few months I was upgraded to full-time snowboard instructor, and realized that I was getting paid to teach snowboarding, my passion, my hobby. I didn't see it as a job - it was too much fun!

Through Chill Factor E, I also got the chance to head out to Aosta Valley, Italy and teach for InterSki for a few weeks each winter. It was super fun because every time I went, at least one of my instructor friends from work went as well. But the major perk was being able to teach on a real mountain instead of just indoors. Plus I would get a school group of roughly 6 teenagers for the whole week, and each time I went I had super cool kids who were so stoked to be on the snow learning to board. Great times!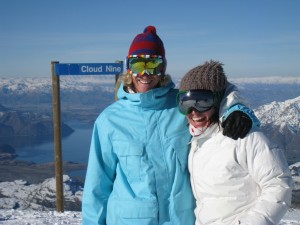 After spending almost three years teaching full-time at Chill Factor E, myself and my partner (also an instructor) decided to travel Europe in our 1976 VW Camper van for the summer, and look for a place to live near the mountains, where we could continue to teach. Nearing the end of our trip, a South African guy from the Wirral, suggested we try somewhere a little more eccentric than Europe - New Zealand. Within a few days we were racing back to the UK from Andalusia, Spain, to get ourselves ready for our trip to the other side of the world.

It is now July 19th 2011, and we have been in Wanaka since February, waiting for the snow to arrive. Treble Cone has been open for seven days, it's been glorious sunshine everyday, and perfect riding conditions! Treble Cone is as everyone says, the best advanced mountain to ride in New Zealand. With amazing off piste terrain, including awesome natural half-pipes and kickers. It's insanely good! I am booked on to the level 3 snowboard pre-course, after which I will be sitting the NZ ISIA exam at Coronet Peak. To achieve ISIA I also have to sit a 2-day Children's Teaching Certification, which I completed a few weeks ago now, and was very informative. As well as a 4-day Avalanche Safety course, a First Aid course, and the level one ski exam, all of which I am booked on to do this winter.

My partner and I are currently applying for instructor jobs in Switzerland for next winter, as we have decided that we do want to be in the mountains in Europe, nearer to the UK.

So the snowboarding adventure continues. Big thanks to everyone. Especially since I met my fiancee through all of this. She was my boss at Chill Factor E. All of this would not have been achieved without the help of my family, my fiancee, the Nonstop crew, and the outstanding guys I had teaching me in Fernie B.C.