2 weeks in Fernie, Red Mountain, Revelstoke and Kicking Horse - NONSTOP's Snow Safari blog
Hi snow-lovers. My name's Ross and I've just been on one of the Nonstop Snow Safaris. I hope this little report might give you a flavour of the trip, let you know what to expect and, if you've booked it already, get you hyped-up for it! In short, it was awesome. As tempted as I am to leave it at that and go to the pub, I should probably elaborate a little bit.

In January this year, I quit my job, put my flat up for rent and headed for the mountains. I was originally going to be on the 11-week instructor course in Red Mountainbut, unfortunately, an old sporting injury reared its ugly knee and I had to cancel. I decided that I would still head to Canada.
and just knock around for the season. I had saved the money anyway and besides, I didn't have a job or a house so I might as well go skiing! I started looking at resorts around Canada's powder highway as I thought it might be nice to see a few different places before I settled down for the winter and committed to a season pass at one resort. I had a look at Greyhound bus routes, hostels, lift ticket prices and piste maps and soon realised that, as a lone traveler, it was going to be more of a pain in the arse than turning up for a prostate examination during work experience week.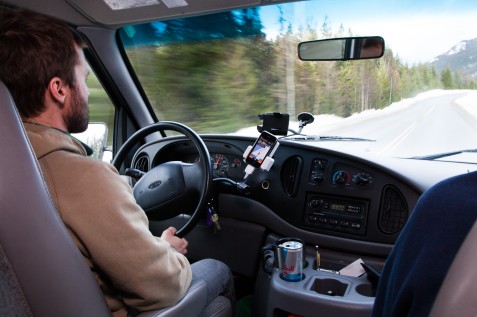 JF driving the NONSTOP Safari bus
I found myself staring longingly at Nonstop's website again and noticed the Snow Safaris. These 2-week road trips took in several resorts and were perfect for what I wanted. Nonstop provide a van and a host to drive it. When you get to each resort, you have your accommodation arranged for you. You're woken up to a nice breakfast each morning after which you're handed a lift ticket and taken to the hill. Most importantly for me, when you get up the mountain you have an instructor waiting to not only tidy up your technique but also to show you the very best that each resort has to offer; something that could take weeks, and a lot of money on day passes, to discover by yourself. In short, all we had to worry about was how much beer was left in the van (I mean in the back of the van - it didn't actually run on beer). It was also perfect for lone travelers as you couldn't fail to meet people.

I was sold and booked up for the first Snow Safari of the season. We were going to start in Fernie then move on to Red Mountain, Revelstoke and finally, Kicking Horse.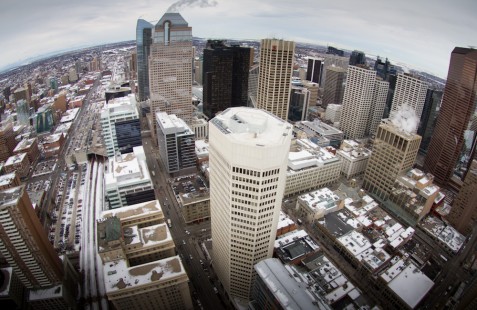 View from top of Calgary Tower
We arrived in Calgary airport and met up with the group. We also met JF, our host and saviour for the next two weeks. Not only is JF a very experienced snowboard instructor, he also took care of everything else for us, from cooking meals and making restaurant reservations to arranging lift tickets and helping us down from cliffs when we went the wrong way and got stuck at the top of them (long story). I genuinely believe that he would have brushed my teeth for me if I had asked nicely.
FERNIE
We hopped into the minibus and headed to our first destination and first contender for my home for the season: Fernie, BC. In short, the place was amazing and we couldn't have arrived at a better time. Fernie is made up of five big bowls: Cedar, Lizard, Currie, Timber and Siberia. When we arrived it had been snowing almost solidly for a week and the bowls were full of fluffy, white powder; so much in fact, that most of them had been closed due to avalanche risk. This might seem like a bad thing but, with temperatures as low as -25 degrees Centigrade, the powder had remained light and untouched for the whole week. On our second day, with avalanche bombing complete and temperatures down to -27 degrees C (this is the point at which TV networks actually let their weathermen refer to it as "colder than a penguin's bollocks"), the bowls opened.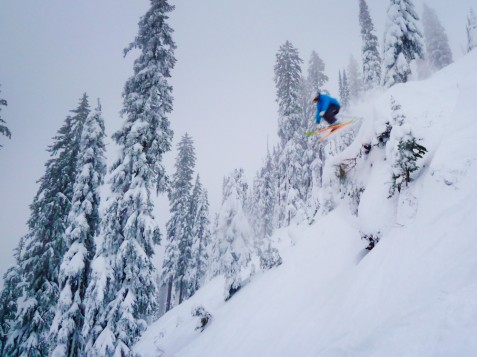 Ross boosting off Hollywood Drop
After an early rise and one of the first lifts, I had an un-tracked run into Currie bowl. All over the mountain were squeals of delight as people found a new, fresh line. It sounded like a Scissors Sisters concert without the homosexuality… or at least I didn't see any.

On our third day at Fernie, the sun came out. As anyone who's skied knows, the combination of fresh powder and blue skies is a rare treat. We made the most of it, covering all five bowls from the first to last lift.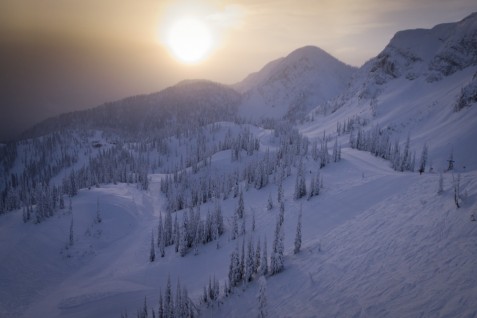 Fernie bowls

Our fourth and final day in Fernie was probably the best day's skiing of my life. If snow conditions hadn't been so perfect, it may have been the last day's skiing of my life. The clouds closed back in in the afternoon and they really started to dump snow onto Fernie. From failed backflips to steep tree lines and drops, the deep, light powder made anything possible. It's worth mentioning that I wasn't forced to ski like that... I'm just not very clever.

As with all good things, our time in Fernie came to an end. The guys on the 3-week instructor course got their results that evening (they all passed!) so a group of us headed into Fernie town to celebrate their achievements.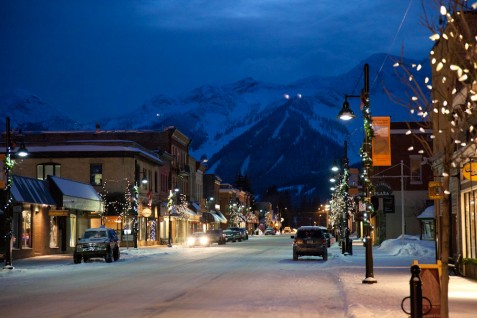 Down town Fernie

After more booze than Mel Gibson before a particularly long drive, I headed back to the lodge for two hours' sleep, an early breakfast and the van to our next stop. It's worth mentioning that I wasn't forced to drink like that... I'm just not very clever.


RED MOUNTAIN
After the perfect conditions that we had experienced in Fernie, Red Mountain had a lot to live up to. While it wasn't quite at the "Matrix Reloaded" levels of disappointment, there was no getting away from what we found on our arrival; a brilliant mountain with very bad weather.

We had checked the weather forecast before we left Fernie and knew that it was due to get warm all over eastern BC. In the space of two days, it went from -27 degrees Celsius to +4. What was falling as snow was now rain and the significant amount of snow on the ground was wetter and heavier than a sperm whale's condom.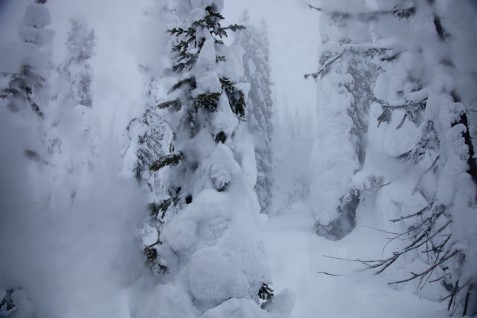 Heavy conditions in Red Mountain
Having arrived in Red at about 1pm, JF dropped us at the hill and we headed straight up to see what it was like. As expected, it was pretty hard work but it soon became clear that the terrain at Red was really varied. The resort is actually made up of two mountains; Red and Granite. Red is pretty small with a few black and double black runs through the trees and one big looping blue run. Granite is much bigger and has a green path spiraling round it and marked runs down all sides (mainly blacks and double blacks again!) that meet the path as various points. This means that you can ski 360 degrees down Granite Mountain and, as I've found is a theme with Canadian resorts, means that there is a hell of a lot more ski-able terrain than the number of lifts suggests. The few runs that we did on the first afternoon were enough to burn us all out so we headed back to find out what our accommodation was like. As it turned out it was this pimp-den: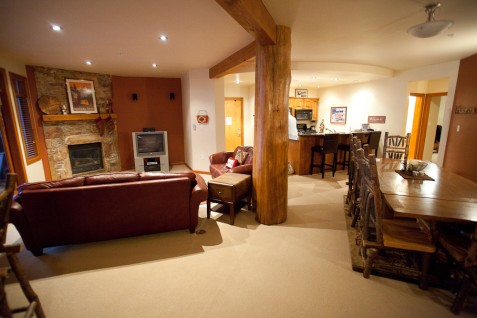 Red Mountain den
On day two in Red, most of the guys had booked to go cat-skiing with Big Red Cats. This is a bit of an unfamiliar concept to those of us who have only ever skied in Europe but basically involves being taken around the back-country in a bloody great piste-basher and dropped off to ski fresh lines through the powder.

I had given cat-skiing a miss, mainly because I don't want to be on the bread and water diet for the rest of the season. At 7am however, I was shaken awake by JF To say that Alex, one of the guys who had booked up, couldn't make it as his ski boots had been systematically eating his right foot. He couldn't get a refund so, instead of wasting the place, the remaining names went into the hat and mine came out! After a very quick rise, I was on a van on the way to the arse-end of nowhere where the cat was waiting for us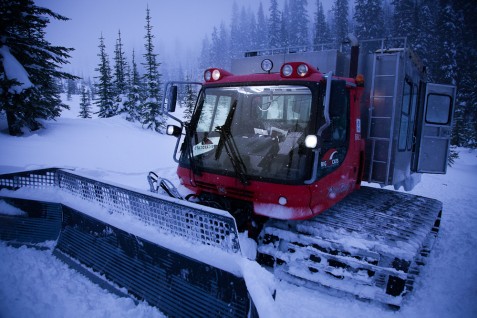 Big Red Cat
After a bit of training in the use of avalanche transceivers, the cat rocked up and we headed uphill. The snow was, again, very heavy but the experience of skiing fresh tree lines, miles away from the nearest ski lift, is not one that I'll forget in a hurry.

On the third and fourth days at Red, we skied the resort itself and really explored the terrain on offer. There are a lot of runs there, most of which seem to have been designed by the same person that wrote the "Saw" films. They're a bit like 70s pornstars: they look pretty good at the top but get seriously hairy the further down you go. On more than one occasion, I found myself skiing a genuine, marked run through some nicely spaced trees, only to find the trees getting tighter and tighter and the "run" getting gradually steeper and steeper until I was presented with a cliff with only one way down!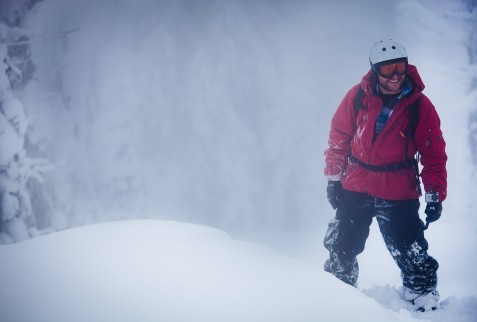 JF looking pretty happy with the fresh back-country lines


For this, I loved Red. There's certainly no shortage of challenges and these, coupled with the heavy snow, meant that we all ended each day entirely whipped and walked, legs wobbling, back to the lodge to end the day in the only way that seemed fitting: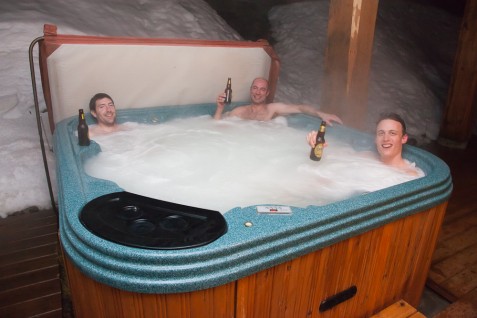 After three and a half days, it was time to wave goodbye to Red, load up the van and head north to our third destination.


REVELSTOKE
After the warm, wet conditions in Red Mountain, we had high hopes that Revelstoke, at about 250Km further North and with a summit 200 metres higher, would be a bit colder. This proved to be true and, over the next three days, we discovered just how much terrain can be accessed from a resort with fewer lifts than your average Holiday Inn.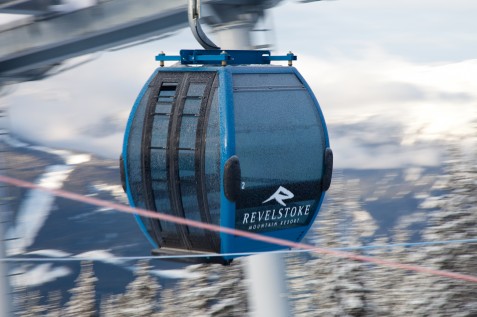 One of the "many" lifts...
There are in fact, only three different lifts at Revelstoke; a gondola and two chair lifts. This, by European standards, seems absurd but this is Canada and everything is not as it seems. Whereas, in Europe, one lift might feed three or four runs, Revelstoke's three service twenty seven runs. Even that's not the whole story as there is almost limitless off-piste terrain meaning that you could ski the mountain for a long time without ever doing the same descent twice.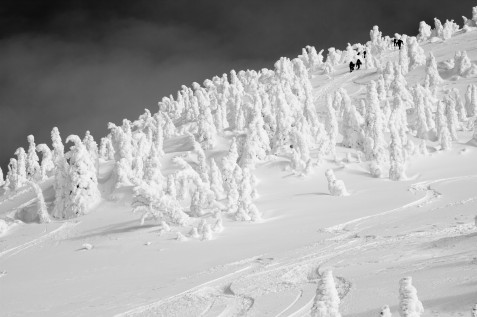 Hiking for fresh lines


The gondola leads from the base of the resort up to mid-altitude and, from the top of this, you can choose one of two areas. The first is a wide bowl accessed via the Stoke Chair and the other is a network of pistes and interconnecting tree runs serviced by the Ripper Chair. On the first afternoon, we headed straight for the comparatively high Ripper Chair and enjoyed an afternoon of still-fluffy powder runs.

We discovered, on the way down to the base, that this wasn't the whole story. Above halfway, the snow was soft and life was good. Below this, it was icier than the Clinton household circa 1998.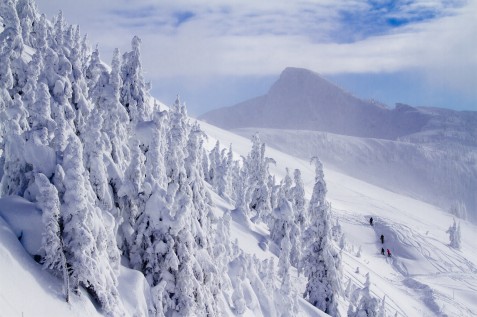 The view from the top of the Stoke chair where the snow was soft and the sun was shining.


So we learned to stay high. On our second day a previously closed bowl was opened. The only way to get there was to take the skis off and take a short hike uphill. We were rewarded with a virgin powder bowl and a view of Nicolas Müller and a few other pro snowboarders jumping off of cliffs that I wouldn't go near without abseiling equipment.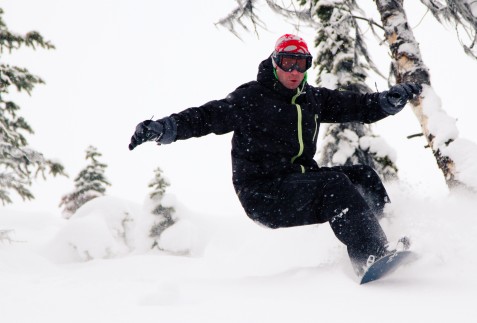 Nigel enjoying the soft stuff


Day three at Revelstoke was a free day. For various, largely booze-induced reasons, everyone took it pretty easy for the half day's skiing that we had. In the afternoon, it was time to pack up the van once again and head on to our final stop.


KICKING HORSE
And so we reached our fourth and final resort. Kicking Horse Mountain Resort started life as Whitetooth ski area and was owned by the nearby town of Golden. The area was bought out and expanded in 1999 and reopened in December 2000 under its current name. The ski area is made up of four bowls: Fuez Bowl, Bowl Over, Crystal Bowl and the newly-opened Super Bowl and all of the bowls join about halfway down and end in a gentle gradient to the lifts at the bottom. At the top it's…well…less gentle.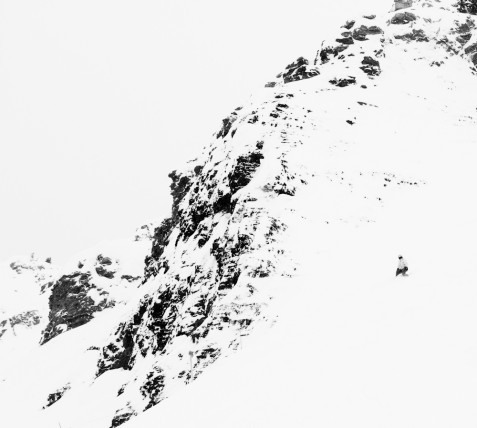 Ian explores the "less gentle" terrain at Kicking Horse.

Much like Red Mountain, Kicking Horse had several runs that would never have made it onto a piste map in Europe. You can however, get a fairly good idea of which runs might be a bit tough from their names. I wouldn't recommend heading straight from ski-school to "Terminator", "Think Twice" or "Unnecessary Roughness" unless you've got some spare undies and a few dollars for the washing machine. It might look like someone's got a bit excited with the black diamond logo when making the trail list but, no, there really are that many black runs: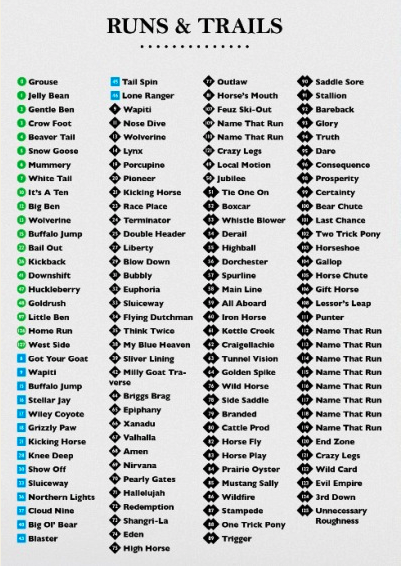 While this extreme terrain is very much on offer, there are also plenty of easier runs. The lower slopes are gently pitched with a nice mix of groomed runs and well spaced trees. While the rest of Canada seemed to be getting rain, we had a light but steady fall of snow in Kicking Horse so we took the occasional break from trying to kill ourselves at the top to have some fun in the powder on the lower slopes.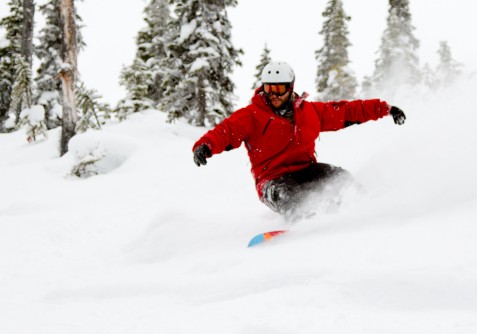 JF making use of the new snow


If the runs don't kill you, Kicking Horse has one final trick up its sleeve. On asking Steve, our instructor, what a particular hut in the middle of the ski area was, I was informed that it was the den of a grizzly bear. Well of course it was. My first assumption was that this was a trick played on us tourists but it turns out that there really is a grizzly bear called Boo living in the middle of the ski hill. He can be found in the resort bars at about 4pm and likes rum and coke. OK, that bit's not true but he did escape for several weeks in 2006, mainly in search of a lady bear to enjoy a bit of apres-ski with.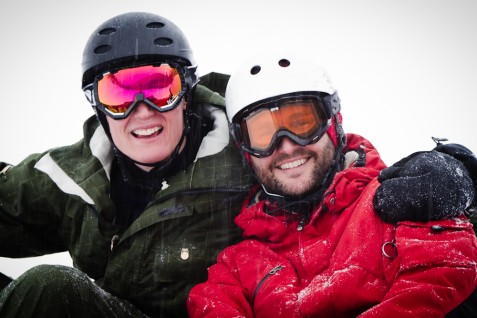 Jonas and JF - a proper bromance
After two days in Kicking Horse, nobody had fallen off of any cliffs or been eaten by bears so we loaded up the trusty van one last time.

The drive back to Calgary airport took us through Banff National Park; Canada's first National Park and one of its most beautiful by all accounts. I'm afraid I don't have any photos of it as I was too busy just gawping at the scenery but I may well head back there when the ski season is over.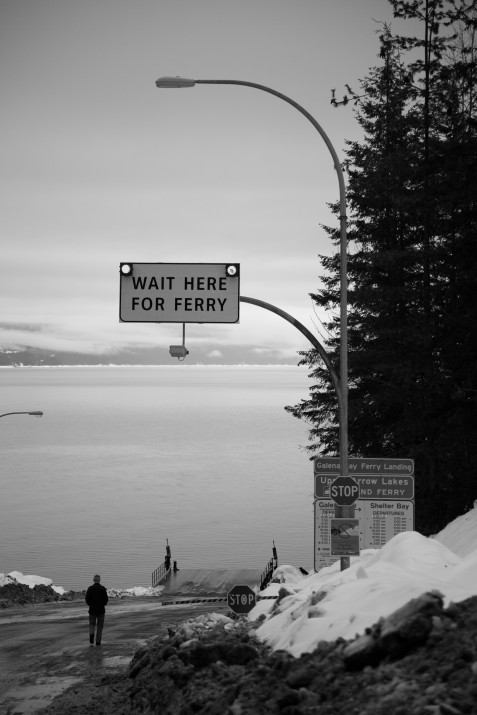 Du du du duuuu... (insert Incredible Hulk closing credits)


In the meantime, we continued on to Calgary, said our goodbyes and went our separate ways. Thanks to everyone on the trip for an amazing time. I've generally kept this aimed at the skiing and resorts themselves but, as I'm sure you can all imagine, there was plenty more non-blog-friendly fun when the ski boots came off and that was all down to the great company.
My "separate way" involved choosing which resort to spend the rest of the season in and this decision led me to where I am now: in a hostel back in…wait for it…Fernie! I loved all of the resorts that we visited for different reasons. Red and Kicking Horse both had incredible skiing and you'd definitely come out of either place a much better skier than when you arrived. Revelstoke had a nice, vibrant town and masses of options on the mountain. For me though, Fernie was the most complete package with a big, varied ski area and a friendly, fun town. The fact that Nonstop have such a great base here means that, having been back in Fernie for only two weeks, I've already met far more like-minded people than I have slots in my brain for names. Granted, I have discovered that I only have about four slots, reducing to one (mine) as booze is applied. I've settled nicely into Fernie life; skiing every day and partying far more days than my doctor or bank manager would advise. I think I'm going to be quite happy here.

So, do I ever regret canceling that 11-week instructor course? Well, maybe a little bit. 

So if Ross's Snow Safari experiences and, ehem... vivid writing style has appealed to you, check out our ski snow safari and our snowboard snow safari sections of our website for more details. We look forward to hearing from you!