NONSTOP Pete's ten day tour – day 3 (Red Mountain bound)
Welcome to day three of my tour of Canada. After spending day one and day two in Fernie, it was time to move on...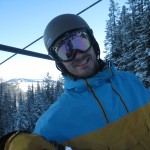 Today didn't quite work out as expected. After a good couple of days riding Fernie, I was really pumped on heading over to see Red Mountain for the first time. So, Rupert, Charlotte and I planned to pack up and head out at dawn to get a near full days riding in. But a bit of a faff-fest ensued and we only arrived in Red in time for a couple of runs. I can't complain though, it was a really fun day and we got to see some of the best of Canada.
After all good intentions, we set off from the Red Tree Lodge in Fernie at around 9am... sigh... with the snow starting to fall pretty heavily, so I think the Fernie groups would have had some fun by the afternoon. After an hour on the road we rolled into Cranbrook to have a little look around / faff. To be honest, it wasn't the most exciting pit stop, in fact it's often referred to as the "ugliest city in Canada". It's certainly nothing special, but there was a cool rusty old train that I took a bit of a shine to.


Not long after leaving Cranbrook we found ourselves on the edge of a massive frozen lake (Moyle Lake). Certainly not the sort of thing I'm used to seeing every day, so we stopped to take a few photos / faff. I also managed to take an on-the move shot of a guy fishing through a hole in the ice. I've often thought that fishing was missing something, and not understood the appeal of sitting around staring at water for hours on end. These guys are adding the element of standing around in sub zero temperatures – right on!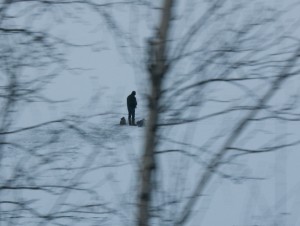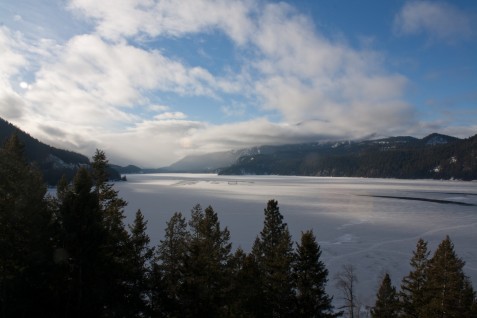 Next stop was in Cresten for a refuel and lunch. Now knowing that we were running behind schedule, we somehow decided that the sandwiches in the garage weren't up to NONSTOP standard, and that we should wander around town / faff, to find something more appropriate. Fair enough, the sandwich we ended up with were pretty bad-ass, but we were now looking to be pretty lucky to make it to the hill in time, with the most treacherous part of the journey to come.

From Creston on to Salmo we gained altitude quite drastically and spent the next hour or so battling through some very slippery snow covered roads, which didn't help the schedule but made for some nice scenic shots from the moving car (we thankfully decided against stopping to take them).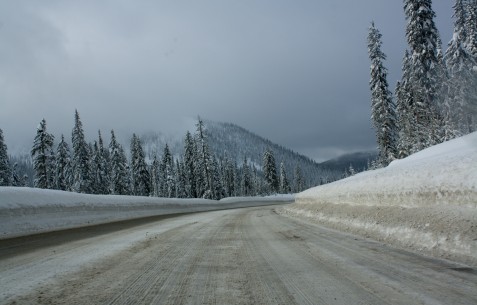 The one hour time difference worked in our favour as we rolled into Red, but we were only left with one hour left  to ski unfortunately. What a great hour thought! We hooked up with Mark Impey, Red's course director and CSIA legend, who's an ideal person to get you making the most of a short period of time. It was pretty cloudy as we ascended the first chair from the base of Red, but about half way up Granite Mountain we broke through into a stunning inversion. The view from the top was out of this world. There's such a massive difference in altitude to the surrounding valleys that you really feel like you're on top of the world, and the inversion and snow filled trees made it seem even more dream like.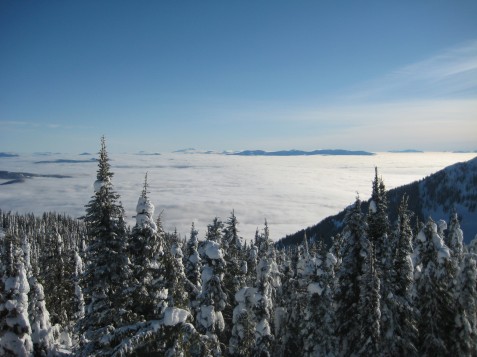 There was no messing around with Mark, we were straight through a narrow, steep and bumpy tree run. My legs are nowhere near being back to their best but the bumps were really nice and soft so it was a lot of fun bobbing down there. On the next run I hooked up with Drew, one of the snowboard pros on the NONSTOP programme and he took me through an even nicer tree run followed by an awesome cat track. I know, I know, you wouldn't normally refer to cat tracks as "awesome"  but not only did this thing have some stunning views as it corkscrewed round the mountain, but it had a great hit about every 100 yards! I grinned from ear to ear constantly for around 15 minutes and had some pretty sore cheeks by the time I hit the bottom.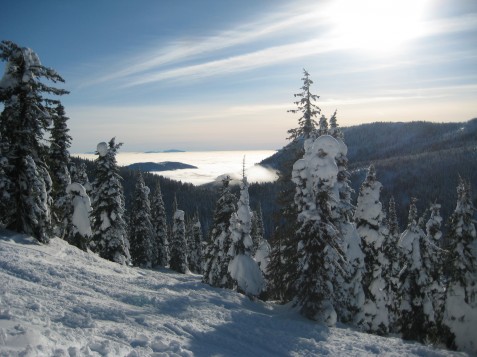 Rupert's just mentioned that my last blog had a lot of picture of people sitting down... I guess he's kind of right. I had every intention of taking moving pictures today and Drew's hits on the cat track would have been ideal but I was just having too much fun to stop... sorry. Maybe tomorrow!

After meeting all the trainee instructors at dinner, we all headed out to a talk from a local physio about injury prevention, which is really useful, especially at this stage of the season. It was quite scary listing to all the different ways that you can mash your knees up, but it's better to know about it and try to avoid it. Then it was on to the pub to smack a few nails into a piece of wood! Every tried it? You should! It's the best pub game ever. Courtesy of the Austrians originally I believe.


Oh, one last thing... we were chatting with Mark Impey in the pub. Apparently six of last year's Red Mountain NONSTOPers are back living here this winter. Two are instructing in the ski school, one's managing a hostel and get this, one is guiding at a cat skiing company! Amazing! Red Mountain really seems to be a pretty special place. Even after half a day, I can see why people fall so heavily in love with it.

Anyway, once again, stay tuned for the next (ahem) exciting instalment! Tomorrow I'm going to shred the hell out of Red with the 11 week snowboard instructor trainees. Apparently they're pretty good already, so I hope they go easy on me!