This weekend, NONSTOP went head-to-head with Bestival, with our ever-popular reunion festival "NONSTOCK". The couple hundred people who joined us definitely made the right choice – The Isle of Wight didn't have a scratch on Purley on Thames this weekend!
Now that the dust (or rather hay) has settled and more than a few sore heads have cleared, we're really happy with how it all went… and wish we could do it all again this weekend!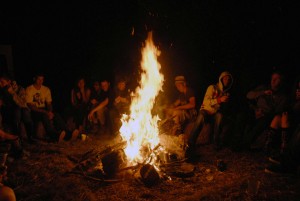 This year's NONSTOCK took place in the beautiful countryside of Purley on Thames, just outside of Reading. As well as having loads of space and the ability to make a hell of a lot of noise without any complaints, this location was far more accessible than previous years, which helped build our biggest attendance to date!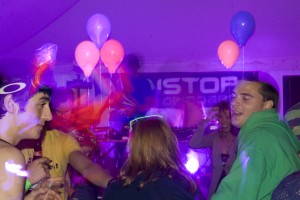 Excitement was in the air on Friday afternoon, as most people hooked up with friends that they hadn't seen for a long while. It was also great to see a bunch of soon-to-be NONSTOPers, who came along to get a taste for what's in store for this winter. That evening Beats in Abundance took to the decks to properly kick off the party. Their eclectic and randomly imaginative set of tunes could have got the biggest party poopers strutting their stuff,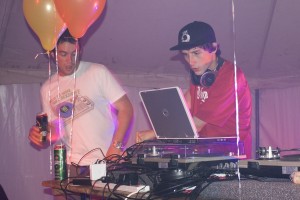 but the already excited NONSTOPers were lifting the roof in no time. With quite an act to follow, Greg (from last year's 11 week Banff course) took to the stage to play some bangers.
Saturday's main event didn't disappoint either. The daytime was filled with football,
swimming in the Thames (don't worry, the cleaner end of it), Puckett and the NONSTOCK Volleyball championship – won by the Banff Cougars, who thankfully knocked out the "VIP's" (who were just a little too big for their boots). Thanks also to the Banff crew for bringing along their own bouncy castle!! Matt Channerin kicked off the evening's entertainment with a great performance of sing-along tunes.
Next up it was awesome to see our Red Mountain 11 weeker Naoimh O'Hagan and her band take to the stage, for an excellent set. The Joint headliners of Will and the People and John Bull and the Bandits, along with the return of Beats in Abundance, fuelled a legendary evening.
For the second night in a row, we were amazed when the bar was drunk dry and, on that note, congratulations to the Banff crew for seeing off their round of 30 Jaeger-Bombs in the space of 90 seconds… we hope your heads are starting to feel a little better by now!
Thanks to everyone who made this year's event happen, and we hope to see you all (and all the fresh blood) at the same time next year!
Post a comment: