Let me introduce you to Christian Delafield, the man behind Nonstop's European instructor courses and 1 week camps. Christian is the perfect company and guide for any day in the mountains – he's hugely charasmatic, great fun, and a very experienced instructor and mountain man.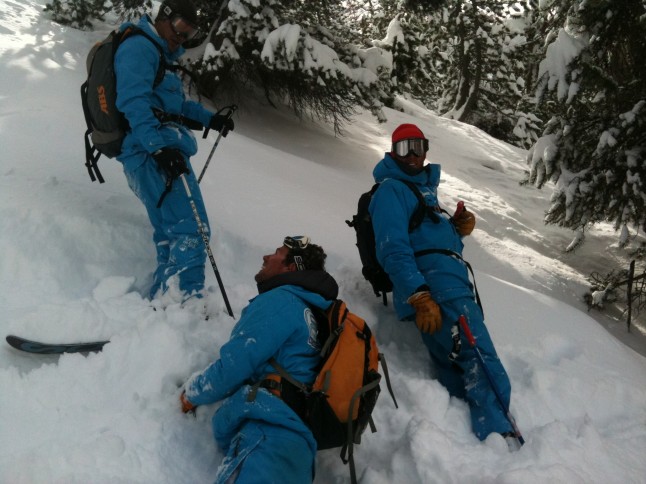 If you're looking for a 1 week ski or snowboard holiday in Europe then Christian and his team will give you an experience that is completely different than your usual ski holiday. They'll teach you to ski or ride terrain you previously avoided – and enjoy it! They will also show you the best bits of Serre Chevalier, France's third largest ski resort but also it's best kept secret. Let the crowds go to the mega resorts while you enjoy glorious snow on empty pistes – all the while receiving professional coaching.
Hi Christian, tell us about yourself and how you got into instructing?
Ski Instruction was a complete accident for me. I left Loughborough University at 21 with a Degree in Industrial Design and Technology. Like many of us that are starting off in life I had no idea what I was going do so I thought I would head to France and think about it over a winter ski season in Meribel. During the Winter I learnt about a training centre in Serre Chevalier that a couple of my best mates had discovered, somewhat accidentally. They sold me their training experiences and I arrived there the following winter to find myself sat as the sole Brit on a bus with 45 French guys. Armed only with GCSE Tricolore and a pair of over-rated Salomon Pilots, I headed into the unknown and here I am today, 13 years later. Someone once told me that if you do more than 3 seasons then it is unlikely that you will ever return to the real world!
Tell us about some hightlights from last winter's Nonstop 1 week camp?
Last winter was Nonstop's first camp in Serre Chevalier, France. The whole week was an absolute pleasure. Despite the somewhat strange weather conditions we still managed to make the most of the empty slopes and opportunities to ski in Italy and La Grave. There were many fun moments throughout the week, not to mention the quality of the skiers themselves.
I suppose there are a few moments that stand out, not least lowering the crew into the infamous Montagnole. This is a huge valley that runs off the western end of the resort. The lack of snow and the ice covered rocks made things a little more interesting than anticipated. The risks were calculated and everyone remained admirably calm and had fun.
Other less hair-raising highlights would have to include the afternoon of video analysis. Having said that when you have a 16 stone mountain man like Sven hurtling towards you at approximately 60 km/hour with only a camera between you and certain death then that can be pretty exciting. It was at this point that individuals started to build a real picture of their faults. The following day there was notable progression in all the skiers and that was enormously satisfying because improving great skiers is not an easy task. Even Sven improved after we encouraged him to reign it in a little.
I know that speaking on behalf of myself and Ben Birt, we had a great time!!!! Thanks guys.
Which ski school are you associated with and who are your typical clients?
I work with an independent ski school in Serre Chevalier called Ski Connections. We are a majority French Ski School made up of a close knit group of friends. We don't get typical clients and that is why I love this job. Every day is different and so is every client. Having said that most of our clients are French at the moment however I have no doubt the climate will change. Serre Chevalier remains a bit of a mystery to the Brits…"France's best kept secret!"
Where have you skied?
I have skied in various parts of the world and grew up skiing in Austria. Since then I have dabbled with: Chili, New Zealand, United States, Switzerland, Germany, Italy. The majority of my skiing has been in France because that is where I have made my second home.
In your opinion, what makes Serre Chevalier such a special place?
The people! The people that run the restaurants, the people that work on the lifts, the guys and girls that work at the ESF next door. I have never felt more welcome anywhere in my life! You only have to smile and engage someone in conversation and you can make a friend for life. There is no animosity here except towards the Parisians!
Describe your favourite line(s) to ski with clients?
It's not possible to answer that question. There are too many options and everything changes depending on whether or not we are snowboarding or skiing. Every year the climate changes and so do the conditions and this opens up opportunities that may have remained dormant in previous seasons. There are so many lines in Serre Chevalier that you couldn't possibly have a favourite, plus I don't really remember returning to the same place over and over again. Having said that: it is always an absolute pleasure to hike up the Cucumelle, with or without clients. Nonstop Pete would knows all about this!
Serre Chevalier is close to the Italian border, what's the skiing like there?
I can only pass judgement over a small part of Italy's mountain range. I read an article recently about Sestriere in the Milky Way. It is linked up to Montgenevre (France) and Claviere and Sauze d'oulx etc. This is where they held the Winter Olympics 2006. They rated the off-piste 2 out of 4 (Good)… They are mad!!!! The skiing in Italy (Sestriere) is epic, not to mention the off-piste which is phenomenal. Perhaps they were there on a bad day, who knows? All I know is that once the fresh lines have run out in France then we all head to Italy because there are always plenty left over there. The Italians just don't like getting their hair wet… Fantastico!
Tell us about the infamous La Grave, is it really as steep and scary as the stories imply?!
La Grave is awe inspiring! Don't ever go to La Grave without a guide or someone who really knows what they are doing. Aside from this, no it is not that steep… depending on which way you decide to ski down! There are lots of invisible options which is why you need to know where you are going. Steep: Yes and No. Scary: It can be very scary, especially if you decide to go with my mate Ben Birt who insists on hunting the most outrageous routes down the mountain. Stories are the soul of experience and awareness. I would always believe the stories that you hear about La Grave, it will keep you alive!
What is the Après like in Serre Chevalier?
Après-ski is a word that probably hasn't reached Serre Chevalier yet! It is the station's Achilles heel. There are nice places to hangout and have fun but great après-ski is random and spontaneous. The best thing to do is keep your ear to the ground and ask the locals. Personally I love spontaneity and the company is more important to me so I get by pretty happily. If you are a party animal then it can be great fun later at night. If you are wondering where to go then why not follow Vincent from Ski Connections. He is out every night of the year so knows his way around in the dark… Whatever you do don't go out and celebrate just because it started snowing… I've made that mistake a few times in my life!
Putting on your instructor jacket, what three tips would you give to someone who's passionate about skiing but has yet to be able to ski fluidly in powder?
Keep smiling… that's simple.
Keep skiing: everything and anything and all your effort will eventually pay off; like anything that we do in life.
Keep dreaming: and one day you will find yourself on the perfect slope with perfect terrain and perfect snow. This is when the conditions maximise your learning potential. At some point in your decent you will feel a touch of what it is you have been searching for, this is the beginning of the rest of your life… now you are really smiling!
Instructors can help to maximise your learning potential and they can perfect your technique but they cannot control the snow conditions and no matter how much they might encourage you they can't really control your levels of determination and enthusiasm. If you are going to progress then you need to get stuck in, it's as simple as that.
Thanks Christian!
If you're looking for a way to massively improve your skiing or snowboarding, to meet similar minded people, and to experience an incredible "off the beaten track" ski area then join us on our 1 week camps in Serre Chevalier.
Alternatively, if you're keen to become an instructor in France, are an experienced skier, fit and up for a proper challenge, then check out our 18 week ski instructor course.
Post a comment: