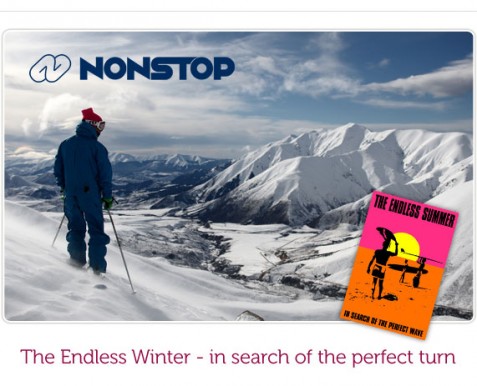 Back in 1966 a seminal surf documentary called "The Endless Summer" was conceived. It followed two surfers around the world in search of the perfect wave. To this day it inspires surfers around the globe, even though it's an "if only" concept for the majority.
Surfers share so much with their winter skiing and snowboarding cousins. In fact, most of us dream about "skiing the endless winter", and there are a plenty of skiers doing just that. Its totally possible to travel from the Northern Hemisphere resorts to the Southern Hemisphere for year-round snow.
Get started this July! A great way to start your global snow hunt is to become a ski instructor, and one of the best places in the world to do that is New Zealand. Our 12 week instructor course runs from July to October in the Southern Hemisphere's greatest free-skiing areas. This course is packed with practical instructing experience and you'll gain some of the world's most respected ski instructor qualifications. After the course you'll be in the perfect position to go straight on and work in Canada, US, Europe and Japan!

ADVANCED 1 WEEK SKI CAMP THIS MARCH
We've already got a great group of high-end skiers signed up for our 1 week ski camp in Serre Chevalier and we've still got a couple of places left to snap up. If you want to enjoy an amazing week of off-piste progression then get in touch!

FERNIE'S KICKING BUTT
Our number one favourite resort has been kicking butt all over the press this year. Most recently, it has taken second place in the National Geographic's list of the World's Top 25 Ski Towns. And after a 90cm dump this weekend
100% PASS RATES
We've currently got a couple of hundred skiers and snowboarders training to become instructors in Canada on our 11 week courses and on the half-way mark we've got the happy news through that our Banff and Red Mountain crew have all passed their Level 1 exams!
NEXT YEAR'S COURSES AT THIS YEAR'S PRICES
If you're planning ahead to next season, now's the time to pick up a bargain. We currently have a price freeze on all of next year's courses. Get in touch soon to secure your place! Check out all of our courses here.
Post a comment: