Last week saw the much anticipated latest Travis Rice & Red Bull collaboration… a big mountain freestyle event  like nothing ever seen before. The brainchild of snowboarding legend Travis Rice, Red Bull Supernatural is a first of its kind backcountry competition to challenge, then crown the best snowboarder on the planet. This really was another level stuff… but progression comes in small steps and seeing this got me thinking about taking part in a Nonstop Freestyle course!!
Work began on this project in the summer and the snowboarding community were treated to occasional glimpses of lumberjacks constructing monstrous features under the direction of a hard hatted sunnies wearing Rice. It was difficult to envisage what this would become, and hats off to Rice for having the vision to create what can only be described as the physical manifestation of the progression of snowboarding (wow – that was a mouthful!).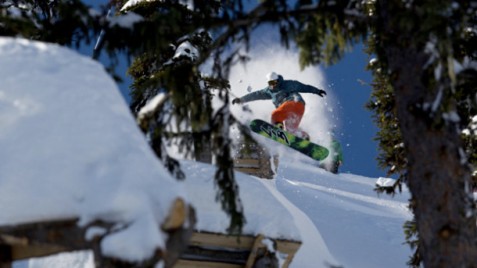 The competition took place within the terrain of Baldface Lodge, one of Canada's pre-eminent backcountry snowcat operations. Deep in the Kootenay mountains of British Columbia, the 45+ degree slope (nicknamed Scary Cherrie) is host to over 80 man made features which took the crew of aforementioned loggers five months to construct. The purpose of the competition was to bring the worlds best snowboarders together and the course was designed to highlight each of the competitors strength while requiring them to demonstrate various disciplines within the sport. "An event like Red Bull Supernatural calls upon all necessary skills – the ability to ride natural terrain, to navigate down big mountain lines, to ride powder, pillows and advese, crazy obstacles"' Rice said. "Most importantly, the course will call on one's freestyle knowledge and experience, forcing riders to integrate that into one's all mountain riding".  Sounds like the combination of Nonstops
freestyle course
and
Master the Mountain
to me!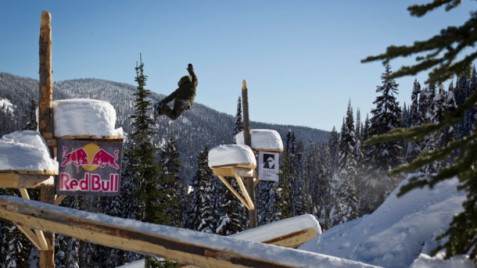 The end product is spectacular. The course looks like the most possible fun you could ever have on a snowboard and the steeze on show is mind blowing. The event is due to be officially screened in the next couple of months but footage has been leaked here and there… we've managed to track down the vid below which shows all the highlights including Travis Rice's winning run…
Post a comment: