Welcome to the third in our series of blogs exploring the most popular ways to spend a season in the mountains.
In the last couple of blogs we took a look at working in chalets as a host, chef or rep and working as a ski or snowboard instructor. Below we're going to cover bar work.
Working in a bar can be a great way to spend a season and, next to chalet work, it's another classic option for those doing European seasons. Depending on your motivation, you can use it as a platform for epic early morning skiing and snowboarding or late night partying and sleeping in!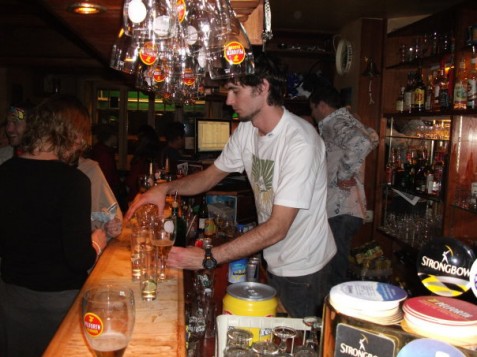 Generally getting a bar job is a little harder than the chalet option. There are fewer jobs and more people going for them. A lot of the time it helps to know the resort or somebody in the bar, to help get your foot in the door.
There's also a lot more that you have to organise for yourself. In most cases you'll have to hook up your own accommodation, lift pass, transport, etc. Although the bar will be able to give you a few tips on sorting out those things, you might face a few hurdles along the way, especially if you're not familiar with the local language.
Generally bar work is much better paid than chalet work, but you'll have to fork out on a lot more yourself, so you really won't feel much richer. If you're lucky enough to get bar work in the US or Canada, you'll get great tips that will properly supplement your income, but in Europe tips are a nice little bonus that certainly won't set you life on fire!
There are a few really good reasons to work in a bar. First and foremost is no morning work. You're likely to work 6 days per week with a 3pm – 6pm start and a 11pm – 2am finish. That means that you can get first lifts whenever you feel like it. However you need to be motivated, because another upside of working in a bar is that you have a ready-made social scene. You'll make a lot of friends, you'll get a lot of free booze and, as a result, there'll be a lot of temptation to hit it hard every night of the week… which could then lead to no first lifts! Bar staff are the most likely to waste away their season with very little mountain time, even though they have most of their days free!
So, is this the best way to do a winter season? It's not the best, but you're bound to have an amazing time. There's no guarantee that you'll progress your skiing or snowboarding to a massive extent, but if you're motivated you'll be able to get some epic riding in.
It certainly hasn't got the kudos of the working as a snowboard instructor option, nor the progression that you'll see with a season long instructor course, but you'll probably have a better time than working in a chalet.
Check out the final blog on spending a season training to become an instructor.
Post a comment: