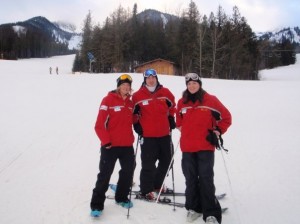 Since 2002, we've trained over 2,000 ski and snowboard instructors, and plenty of those have gone on to work in ski schools around the world. Below is a list of stories about how many of them have gone on to "live the dream"…

Spike Lupton "From Graphic Designer to snowboard in instructor"
Spike chose to go on a career break with NONSTOP back in 07/08 and returns to Canada every winter to instruct in Cyprus Mountain. This blog goes into loads of detail about instructor training, as well as an insight into working in the ski school of a smaller mountain.
Paul Cooper "From accountant to ski instructor"
Pauls story started back in 2004, when he came out to Red Mountain for our 11 week ski instructor course and later our 6 week course in Fernie. Since then he has passed his CSIA level 3 and returns to instruct in Silver Star every winter. 

Ross Brown "Becoming a snowboard instructor, then teaching in Japan and the US"
Ross has made an amazing life for himself. After taking our Fernie 11 week snowboard instructor course, he went on to instruct in Japan then Lake Tahoe and has now gained his AASI level 3.

June Anstey "Training and becoming a snowboard instructor in Fernie, BC"
Since joining our snowboard instructor course in 07/08, June has made Fernie her home away from home, staying out in the winter and summer seasons.

Harriet "Training and teaching as a ski instructor in one season"
Harriet joined our early-season 3 week ski instructor course in Banff and then managed to secure a job in Norquay straight afterwards. It was a pretty amazing way to spend a gap year!
Nadine Wilding "A 3 week instructor course in Banff, leading to a season teaching"
Nadine took advantage of our early season level 1 ski instructor course and went on to instruct in the same season.

James Harper-Lewis "A typical day as an instructor"
James passed his Level 1, 2 and park instructor qualifications on NONSTOP's 11 week Banff course and now instructs in Sunshine Village.

Mike Barnes "Gap year to full time ski instructor"
Mike joined NONSTOP in Fernie after finishing school in 2007 and, after qualifying as a CSIA level 2 ski instructor, went on to instruct at Cyprus Mountain.

Evan Bartlett "Gap year in Red Mountain"
Shortly after finishing school, Evan jetted over to Red Mountain in Canada to join our 11 week ski instructor course. There, he skied some of the best conditions and terrain in Canada and went on to pass his Level 1 and 2 CSIA exams. He now uses his qualifications to take working holidays, instructing kids in Courmayeur, Italy.
Paul Tindle "Factory worker to snowboard instructor"
Five years ago Paul quit his job and rented out his flat to go and chase his dreams. To this day, he's still working as a snowboard instructor.

Alicia Warr "Becoming a ski instructor in Europe"
Alicia gained her CSIA level 2 on NONSTOP's 11 week Banff course and has since gone on to work in Austria and Switzerland.

If you want to follow in the footsteps of our friends above, check out:
Post a comment: