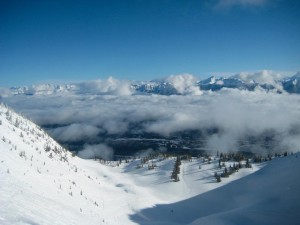 While visiting the 11 week instructor course in Banff, I was lucky enough to join  the trip to Kicking Horse. It has a reputation as one of Canada's best steep and deep resorts, so I've wanted to visit for a long time, to see whether it lives up to its reputation.
It's always hard to make solid opinions about a resort after such a short space of time, especially with good times on the slopes being so weather dependant, but a day is certainly enough to get a vibe for the potential.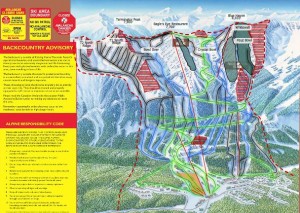 From the outside, one of the most distinguishable things about the resort is the number of lifts on the trail map. There are only four and, to be honest, only two of those are worth using. However, I've learnt, since visiting Red Mountain, that the number of lifts isn't proportional to the amount of available terrain.
Like Red Mountain, Kicking Horse's trail map really doesn't do the resort justice. From the top of the main Gondala there's a massive amount of available terrain that funnels right back down to the base. There's a fair amount that runs straight from the lift, but if you want to see the best, you've got to be prepared to hike. On our second run, we took one of the longest hikes to "T2 ridge", close to the resort's boundary. It took a good half an hour, but there were plenty of opportunities to finish the hike and drop in early. It certainly seemed like the longer you walk in Kicking Horse, the greater the rewards. After the hike we sampled a great section of relatively un-tracked powder, followed by a nice technical tree run.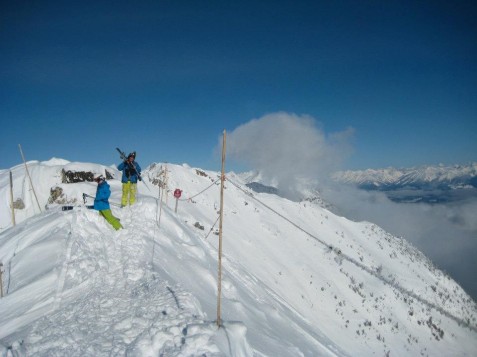 There are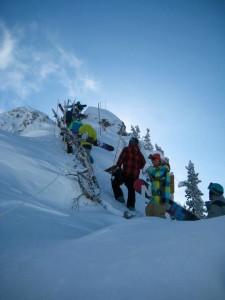 two main characteristics about the runs in Kicking Horse – long and steep! A lot of the time you'll be going from the top to the bottom of the resort on each run, which really will get the legs burning, even without involving a hike. Each complete lap took between 40 mins and an hour, so we had to cram them in to get a good feel for the whole resort.
Even a couple days after the last dump, we were able to get some good sections of fresh snow. I can imagine a powder day here being pretty insane though. There were lots of fun hits around the place to play on and the slopes were really quiet, so in a lot of respects it's very similar to the likes of Fernie and Red Mountain.
All in all, Kicking Horse was an amazing resort and would be a great place to spend a holiday. Get your fitness up in readiness though!
This day trip was one of the extra activities on Nonstop's ski and snowboard instructor course in Banff. As part of all 11 week courses, we'll give you a pool of "credits" for you to use on excursions such as this, making your season even more perfect!  Find out more about our extra activities here.
Post a comment: