We're really happy to welcome the newest member of our team, Ryan, to Banff. He'll be working alongside Nonstop legend Emily as assistant course host on our 3 week and 11 week Banff courses this year. Ryan is fresh out of last year's program and has written an amazing article about his experiences on the course and how it inspired him to come back to Banff this year. Check it out…
Growing up as a Canadian, I have always been a fan of winter. The cold, the snow, and even the ice (as a hockey player) have always been a playground for new adventures and exploration. However, while still cold and snowy, the east coast of Canada had never fulfilled the depth of my snowboarding curiosity. I had always loved being out on the mountain braving the elements but could only ever get a small taste of knee-deep powder, steep, endless bowls, tight trees, and the mountain lifestyle I craved. So after four gruelling years of University, I figured it was about time that I go and have some fun!
After hours of procrastinating studying for my final exams, I stumbled across the Nonstop 11 week snowboard instructor training program in Banff, Alberta. I had only ever heard of this magical place where the mountains touched the sky and the snow fell in such ridiculous amounts that one could only imagine the size of igloo you could build. It wasn't long before I decided to take the risk, a risk that would soon become one of the best decisions of my life!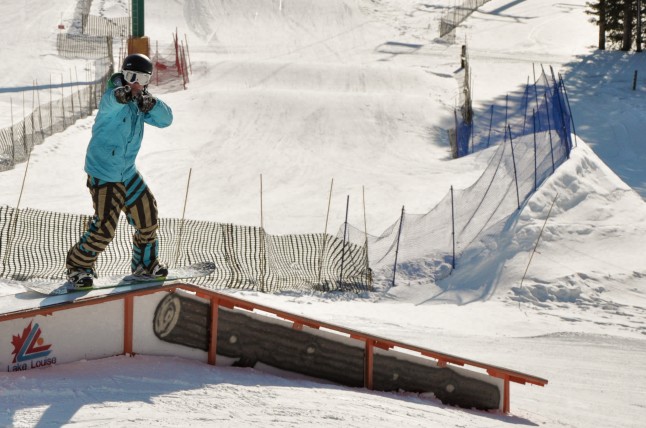 I arrived for the course a week early to shred the mountains because I sincerely could not wait any longer. Throughout the preceding weeks, the thought of pow shots in the face through newly fallen pristine mountain powder had haunted my dreams . Sure enough, before the first chairlift had even reached the top, I realized that there was no possible way I could ever turn back! Over the next three months, I was able to snowboard with two of the best snowboarders I have ever met. With each of their styles so unique, Marc and Brian were an awesome combination of exactly what any aspiring snowboarder needs. They worked together to teach us not only to improve our own riding and technique, but also what qualities a good instructor should possess. As they patiently walked us though the step-by-step process of snowboard instructing, we were able to feed off of their knowledge and experience to aid in our own instructional development. I cannot stress enough what an awesome job these guys did and how knowledgeable every one of the Nonstop staff were when it came to anything in the snow.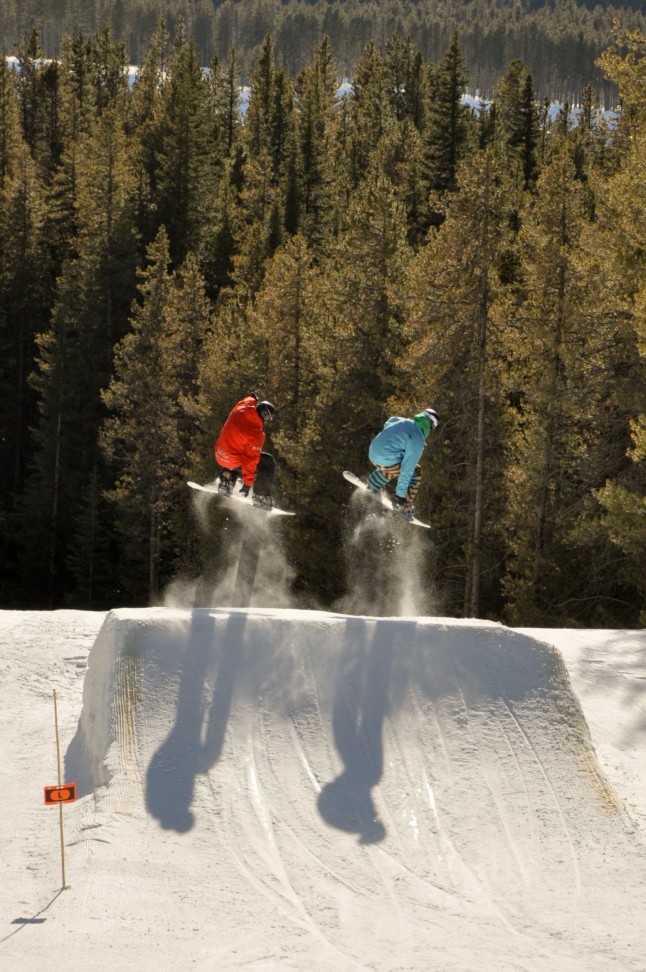 While snowboarding was definitely the focus of the three months, there were always many other activities to aid in further exhausting the Nonstop crew. Whether it was a dodgeball tourney in the Sally Borden, a hockey game on the outdoor rink, night tubing at Norquay, or stumbling to the ever-famous Dancing Sasquatch night club, we were always entertained with new and creative pastimes. One of my personal favourites was after those -40 degree days on the hill when we crammed 15 people into an 8-person hot tub! As the weeks rolled by, the group became tighter and tighter. Within the first three days you could tell everyone was going to be a friend, but within the first three weeks, you could tell they were going to be a friend for life! There is definitely something about the ski/snowboard lifestyle that brings such similar people together and creates a special bond. There should really be a name solely designated for this type of friendship…. Anyways, with every passing week, I remember thinking to myself "This is literally the best thing in the world. Life CANNOT get any better than this!" yet somehow, it kept getting better. I must have thought to myself about ten different times "ok, seriously THIS is as good as it can possibly get!" but yet again, it just kept getting better!!!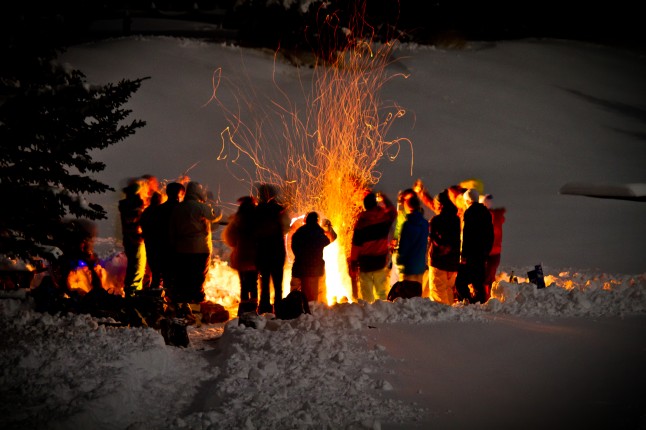 While picking a favourite moment is practically impossible, I must say there was one moment that outshone the rest. Towards the end of the course, IT WAS TIME….it was time for the ever-feared CASI Level 2 Exam, a gruelling four-day exam where you pay to be judged to the extreme of whether or not your hat matches your snowboard (not really, just for dramatic affect) as a testament to your crazy awesome snowboarding skills and teaching excellence. After an hour wait, an exhausting four days, weeks of preparation and studying, and a whole season dedicated to this moment, the best feeling of the entire 11-week course was when I received my Level 2 Snowboard Instructor Certification! Even as I write this I cannot help but smile at the memory. Thanks to the awesomeness that is the Nonstop team, I achieved a goal I would never even have dreamed of accomplishing! The next day (yes, legitimately the VERY next day) I walked into the Lake Louise Ski School with my head held high and asked to speak to the guy in charge of hiring instructors for the next season. With an awestruck look on his face, I explained to him that I was aware I was 8 months early in applying for this job, however I had just passed my level II and wanted nothing more than to work for his hill the following year. With some good words from my instructors and a lot of pestering e-mails and phone calls, I can only assume that I annoyed Lake Louise Ski School into giving me a job – an offer that I eagerly accepted! Again, with all the thanks in the world to the incredible Nonstop program, I had landed my dream job.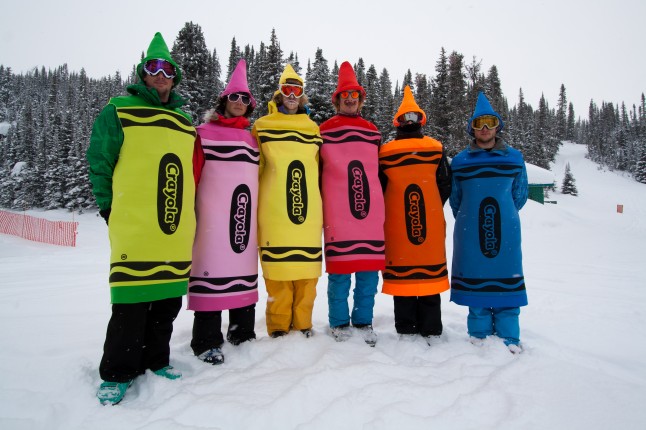 As if I weren't already riding high enough on cloud 9 after accepting my position and notifying the Nonstop team, I then received an e-mail from the Nonstop Banff host, Emily. We had been chatting throughout the season about the possibility of a job working with Nonstop – a long shot but a hopeful possibility nonetheless. Once she heard that I landed a job in Banff for the winter season to come and was definitely staying, that blessed angel offered me a part-time job working with Nonstop for the upcoming 11-week instructor course. I could not believe it! As my cheeks cramped, barely able to contain my ear-to-ear grin, I sent her an e-mail absolutely accepting the position! Not only had I somehow managed to land a job where I get to go to 'work' everyday and teach people the sport that I love, I now also get to work with the organization that made it all happen. I can only hope that through my efforts working with Nonstop I can have even a fraction of the effect on somebody else that the program has had on me. Nonstop, and everyone involved, literally changed my life and I can never thank them enough for what they have done for me. I look very forward to an incredible relationship working with them to make a difference for future Nonstoppers!
If Ryan has managed to convince you that Banff is the place to be and Nonstop are the people to go there with then do check out our Banff Snowboard Instructor Course!
Post a comment: