Louise France took our 11 Week Snowboard Instructor Course in Banff a few years ago and since then has made the mountains her home. Here's how Louise's career break turned into a life in the mountains…
My life changing experience began when I decided to do the 11 week instructor course for the 09/10 winter season in Banff. Initially I was only looking for a career break, as I'd become bored of my regular job, so I looked into doing a winter season. After lots of investigation I decided on Nonstop because it offered the most in terms of instruction as well as the optional activities. The Banff course appealed to me since it was the only company that allowed you to ride three different mountains in the area.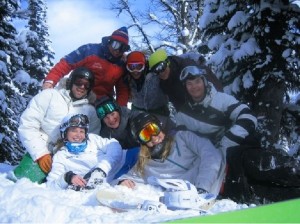 When I headed out to Canada I didn't really have any intensions of becoming an instructor, I just wanted to spend a season in the snow with some like minded people and I was only a novice, having only spent a few days per year for the previous three years out to the snow, so I was looking forward to improving my riding abilities.
Little did I know how much my life would change after this experience!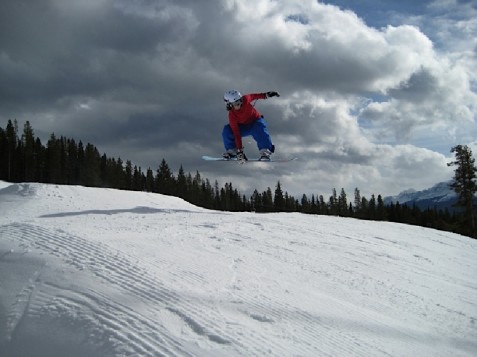 During my time on Nonstop I gained my CASI Level 1 qualification and decided to spend the rest of the course free-riding and having fun on the AMP programme. Our instructors did a great job in pushing us out of our comfort zones to really challenge our riding abilities. They completely changed the way I looked at a mountain. Each instructor had their own area of expertise to cater for everyone, whether they wanted to focus on park, free-riding or gaining further qualifications.
In the summer following Nonstop, I returned to the UK to save as much as I could to fund my next winter in Canada. With some friends I made on my Nonstop course and with Canadian working visa in hand, I headed back out to Canada in December 2010, this time to Silverstar Mountain Resort, BC. Here I worked and lived in a hostel based at the resort. The shifts allowed me to ride everyday, even if only for a few hours and it provided free accommodation for the season. The resort was smaller than Banff but I enjoyed living at the hill and literally being able to roll out of bed and onto the mountain everyday! After many road trips to surrounding resorts including Big White, Revelstoke and even a trip to Whistler for the Winter Olympics, I headed back to Banff. With Spring riding lasting well into May I, along with many of the Nonstoppers from that year, undertook and passed my CASI Level 2 qualification.
Feeling very much at home in Banff I decided to stay in Canada for the rest of the year and found myself a job in a ski, snowboard and skate shop. After a summer spent hiking and mountain biking the Rockies I was ready for Winter once again. With a sponsorship on offer by the shop I opted to stay in Banff and continue to work there for the season. I gained my Salomon ski technician certification as we also provided rentals and through product knowledge sessions provided by the brands we sold, learned a lot about the technology involved in both skiing and snowboarding. The shop was owned by Panorama Mountain Resort so I also had the bonus of having a season pass there. That, along with it's reciprocals, again allowed for many roadtrips to other resorts including Kicking Horse, Castle Mountain and Fernie.
The previous season had lacked on the snow front so many a day was spent doing park laps, however La Nina blessed many hills in Canada with high snowfall in Winter 10/11 and Banff was no exception. A truly epic pow season! Living with a 15 year Banff resident and spending the occasional day with the Nonstop crew from that season also allowed me to hit all the secret stashes to enjoy fresh pow days after the storm had passed.
After two winters and a spring in Banff and visits to many other resorts around Canada, I decided to try somewhere completely new for 2011/12. After a roadtrip around some of the western states this spring, I decided to finally put my instructing skills to use and try my luck at a mountain south of the border. With the downturn in the American economy, very few hills were offering visas in the States this year but I was lucky enough to get offered an instructing job at Squaw Valley, California. Being the local hill to snowboard Legend Jeremy Jones and the home of Gnar I was stoked to be working there for the winter. Finally, I would be getting paid to snowboard!
Working at Squaw Kids, I predominantly teach snowboarding but I do occasionally have to teach a bit of skiing if required. Having been a group fitness instructor and personal trainer for seven years, teaching snowboarding came very naturally to me and I've found it easy to be passionate about something I love. Teaching snowboarding to children as young as five can be quite challenging but it's equally as rewarding. I'm fortunate that having my Level 2 certification allows me to teach higher level abilities and so quite often get to cruise the mountain as if I'm free-riding with friends! I've been enjoying the warmer temperatures and bluebird skies of the early season but am looking forward for La Nina to kick in once again for another above-average snowfall winter. I hope to take advantage of the rider improvement training on offer and prepare myself for the Level 3 course next season.
I don't know where I'll end up next winter but I do know for sure it'll be in the mountains somewhere. Once it gets in your blood it's hard to go back – "Your vacation is my life!"

If you want to live the seasonaire lifestyle, find out how to become a snowboard instructor with Nonstop.
Post a comment: