So everyone is just over half way through their Nonstop experience, a celebration that coincided with the Fernie Griz Days festival! Adam tells us about decision making, back country touring and bus decorating…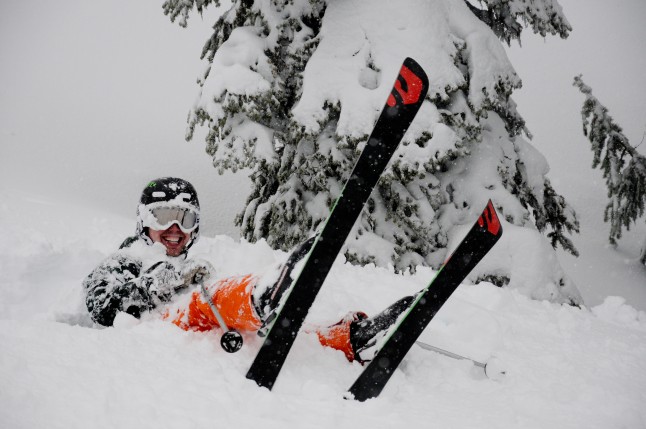 'Level 2 or All Mountain Pro? Park Course or Coaching Course?' February 25 – 28th
With Level 1 done and dusted and everyone fully recovered from the celebrations it was back to business this week. Back in lessons with a Level 2 or AMP decision to be made on Thursday. Level 2 is for those serious about instructing either next season, or sooner in the southern hemisphere and All Mountain Pro is for those looking to ride rather than teach.
The week was about getting a taste of everything. On Thursday, the Nonstoppers had to pick which avenue they wanted go down – AMP or Level 2. Our instructors made sure everyone knew what each option was all about and gave a little taster of each to help the guys decide. Also, in the coming weeks are the Coaching and Park courses which are not compulsory but another opportunity for everyone to gain some great experience.
Regardless of what they decided everybody participated in the AMP Stage I exam. This took place on Thursday. The four components for both ski and snowboard are: freeride, short radius turns, carving and a drop feature. It was a great day and a lot of fun. Everybody was shredding and showing off how much they have improved since they have been on Nonstop.
Sandy Lewis and Tom Smith took out Most AMP'd Female and Male Snowboarder.
Louise Keane and Louis Higgins took out Most AMP'd Female and Male Skier
Special mention has to go out to Stuart Farley who had a huge air on the Drop with a huge bail at the end of it!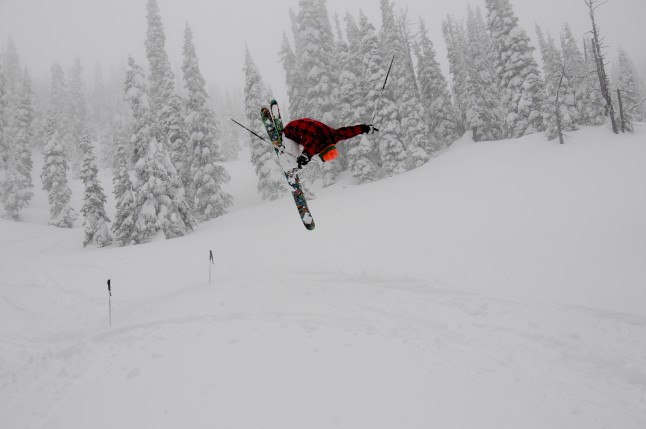 'Earning Your Turns' – March 1st
Fernie is truly spoiled for terrain; along with the Resort, Fernie has an abundance of accessible back country. One of the very popular 'Extra Activities' that Nonstop offers is Back Country Touring – instead of using a chair lift or gondola to reach the peaks you use specialised skis and snowboards to hike to the top of a peak and then ski down. It's a really good form of exercise and a really great outdoor experience. We are very fortunate to have the Back Country Guru, Steve Kuijt guiding our trips.
We have had nearly 80cms of fresh powder in Fernie this week but with all the fresh snow comes an increase in avalanche danger and unfortunately, due to weather we had to cancel our Touring plans on this day. We never send a group out without first consulting with our guide who does a full assessment of the conditions the morning of the tour. We were, however, able to send out a group earlier in the week who had a great time earning their turns. The snow was fantastic and they had great weather too.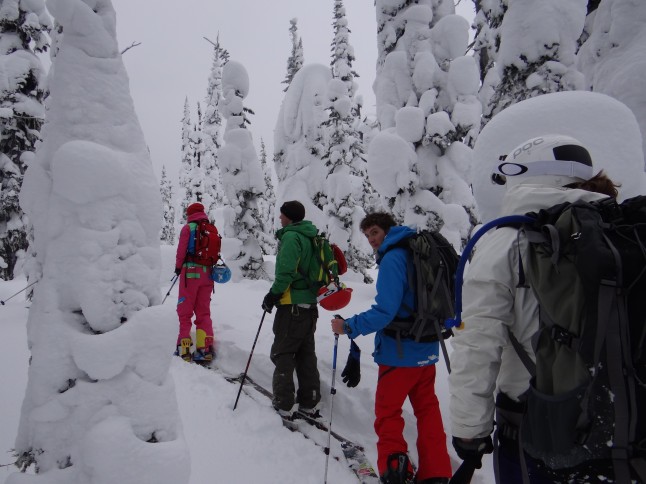 'Time To Celebrate The Griz – Griz Days Winter Festival' March 1st – 3rd
Every year Fernie celebrates the Griz and the wonderful snow he brings. The Griz is the Fernie mascot, his face is etched onto the mountain, so he perpetually watches over the skiers and riders of Fernie. To celebrate, a three day festival takes place with a number of activities for everybody to get involved in. It is a real community event that is a blast every year.
Some of the main events this weekend included:
The 'Commit To Pain' rail jam built on the streets of downtown Fernie by Commit Snow and Skate. It was a chance for some of the locals to throw down under lights on the streets of Fernie and man could some of those kids throw down. Nonstop was represented by Snowboarder Instructor Breen who definitely knows how to throw down too!
The 'Dummy Downhill' where teams build a creative dummy on skis and launch it off a jump to be judged on creativity, air time and the carnage after. Nonstop were represented by a Buck on skis which was put together by some of the lads.
Geoff Abbott was our only participant in the 'Extreme Griz Competition' where competitors participate in a number of events such as pancake eating, axe throwing and a ski race to be crowned the Extreme Griz Champion.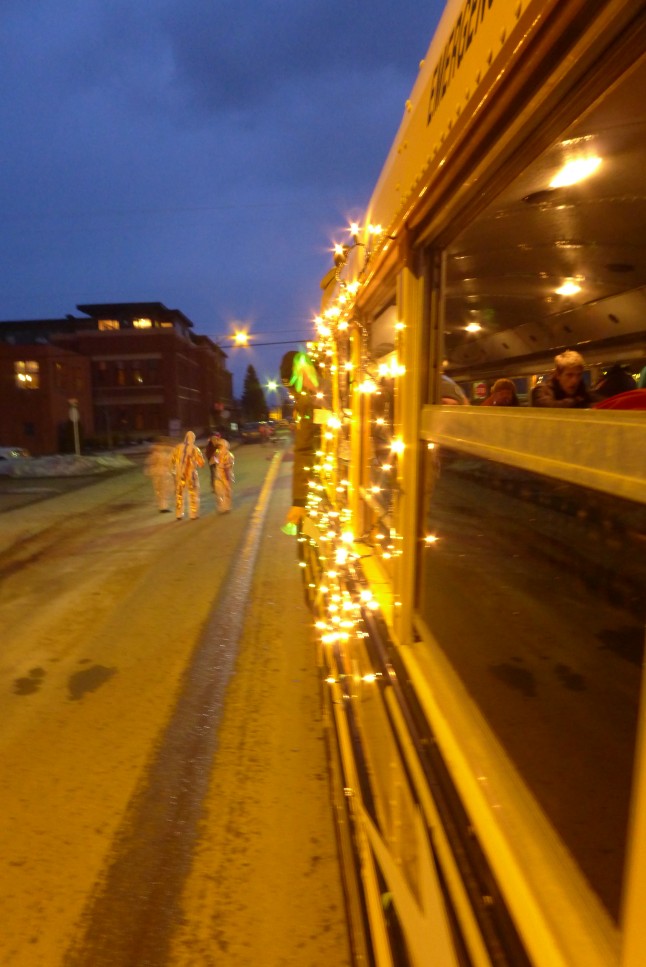 The big show was the Griz Day Parade on Saturday Night. The Parade is the highlight of the weekend where local businesses and associations including Nonstop enter a float in to the parade.
Nonstoppers were out in the car park early with Dave setting up the Nonstop bus. By the time we got to Main Street the bus was lit up with Christmas lights, glow sticks and sparklers, the tunes were pumping and people were perched up on the roof and dancing in the isle of the bus. The streets were lined with people, children waving with huge smiles on their faces and everybody celebrating not only the Griz but the wonderful town of Fernie!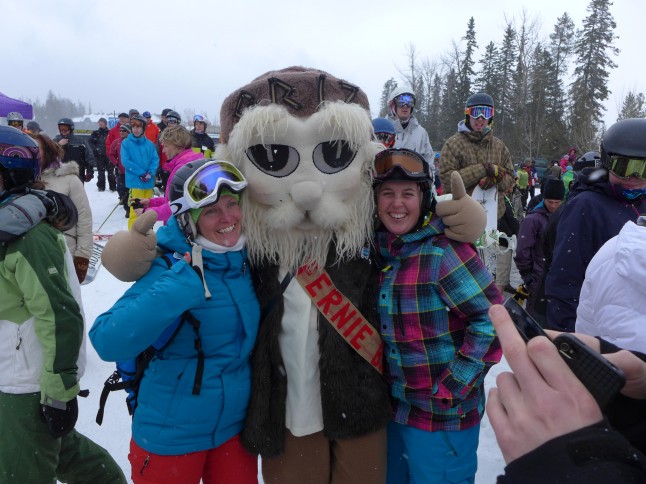 Thanks for another great week everyone and well done for being a part of the community spirit and making the most of the Griz Days!
Happy Shredding!
If you want to be part of Griz Days next year check out our 11 Week Instructor Course. Make your gap year or career break epic!
Post a comment: