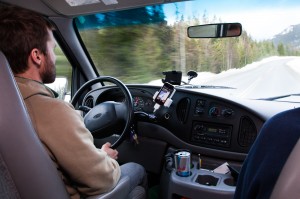 The third of this year's Snow Safaris has just got underway. Over the next couple of weeks our lucky group of skiers and snowboarders will be travelling around some of the best "steep and deep" resorts in the world: Kicking Horse, Revelstoke, Red Mountain and Fernie.
Here's how the first couple of days have gone, from Carlos our guide for the trip:
10 ravenous snow seekers have finally gathered upon Kicking Horse Resort in the little western Canadian town of Golden BC with the same goal in mind – to shralp the pow and shred the gnar!  The Dutch contingency arrived a day early and spent the night in a Calgary hotel close to the airport and were able to meet the others arriving from Gatwick at the airport and, just like that, we were off westward to the mountains to meet the last two of our posse. Our most senior members have been in Canada for almost a week exploring another of B.C.'s great resorts on their own and we agreed to meet them at a Cafe in the town of Golden. After a quick trip to the bottle shop we felt properly ready.
The usual jetlag took its toll waking everyone up early in the morning and after a little breakfast and a quick soak in the hot tub for some to loosen up the muscles off we walked from our million dollar Chalet to the base of the Gondola only 200 meters away for a quick orientation of the mountain.
It looked like a white-out, but ta-daaaa! the clouds parted just enough for us to see what we were dealing with. Some quality apline gnar-gnar. We took it easy since there was only trace snow from the night before and only 6cm in the last couple of days. Still, that translated into mid-boot proper champagne powder. So light, so dry and the base underneath still relatively soft. A good day to warm up and lots of snow in the forecast
!
Now boots on the boot dryer, bodies in the hot-tub, beers in the hand and a trip into town for some supplies before our next two days here at Kicking Horse. We'll ride it 'til it bucks us off!"
Post a comment: