This year we've had a over 100 people on NONSTOP courses going on cat skiing / cat boarding days and, without fail, it has become one of the highlight of their season. The latest group to go out was from our late-season 3 week ski and snowboard instructor course. Although in April, you can see from the pictures below that there was still a lot of snow falling!  Here's the accounts of one of our trainee instructors:
Just had my first experience of CAT boarding and as the locals in Fernie would say it was 'awesome'. I've boarded in powder before but never experienced anything like this.
A 20 minute drive south west of Fernie took our group of skiers and boarders to the 3,000 acres of backcountry Snow Catskiing run by Fernie Wilderness Adventure. This is where the true backcountry experience awaited us (minus the energy sapping bit of having to get ourselves to the top of the hill thanks to the motorised snowcats).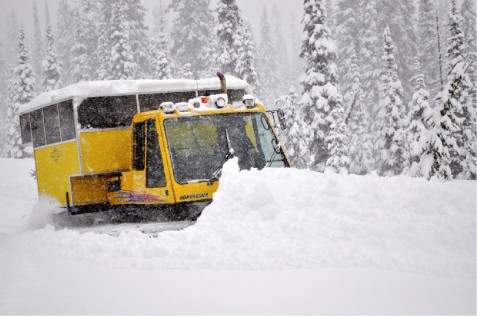 Snowcats are basically like the 'piste bashers' you see grooming the snow in ski resorts, but converted to enable them to carry passengers. Ours could carry up to 14 people and apart from getting us to the top of each run quickly, it allowed us to store gear and refuel on food and liquids between runs in comfort, maximising the number of runs we got in the day.
I'd read so much about Fernie's legendary reputation for deep powered before I came and have to say that even in early April it didn't disappoint. Our guides for the day Brian and Matt met us with smiles which stretched from ear to ear before they told us that the overnight snow meant we were in for an amazing day. Not only were they right, but as they snow didn't stop falling all day we ended up with 75cm of fresh untracked powder snow to play in (bliss indeed).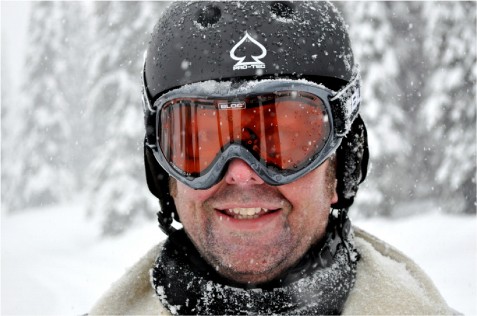 Words can't fully describe the experience of boarding through waist deep powder (i kid you not), and picking your own untracked line through the trees and open glades. With so much terrain to pick from we never used the same run twice. I've never surfed, but having tasted the spray of powder snow in my face as I made my way down the hill I think I have a better appreciation of what surfing must be like.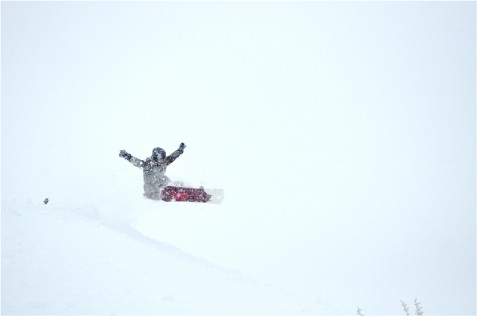 Not sure I landed this one!!!
CAT skiing was a truly memorable experience which I'd recommend to anyone that gets the opportunity to give it a go.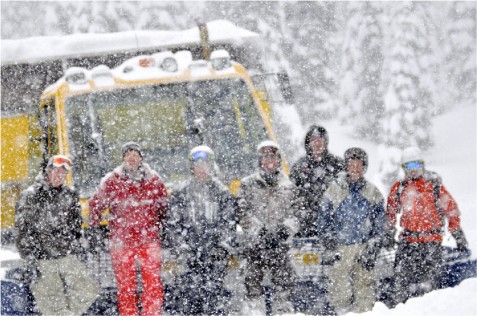 There's the opportunity to do a cat skiing or cat boarding day on all of our NONSTOP courses. 
Post a comment: