The 11 week Banff crew are now deep into their course. This week they were focussing on their park course and had the opportunity to go cat-skiing. Here's an update from Joe "Dishy" Day…
Monday
Monday began with a lot of sore heads after the usual antics of Sunday Funday! I came down to breakfast still half asleep only to hear Rob mid-conversation, laying claim as to how many ladies he's managed to pull since being in Banff! He seemed pretty proud of himself, it's just unfortunate for him that I've personally seen the quality of some of these so called 'ladies'! Think we'll end that there….. Anyway, we were at the Lake today, most of us arrived on the later bus just in time for lessons. Brian had decided to take a weeks holiday to go snowboarding somewhere else so we had Rich as a stand in, everyone seemed pretty cool with this as half the group had been passed by Rich for their level 1. There was one small issue most of us found when we all grouped together outside the lodge though, we seemed to have 2 Richs??? Luckily after a few minutes confusion we realised who the real Rich was and that the impostor was simply Terra who had decided to make herself look as much like him as possible! The morning was taken up by practising for the Level 1 Park Exam which was coming up that week, lots of buttering, ollie's, nollie's and other bits and bobs. I decided to swap groups in the afternoon and spent it with Marc and Georgie who had kindly come to pay a visit! Part way through the afternoon we managed to get stuck on a chair lift for over half an hour, Melina couldn't believe her luck getting stuck in such close contact between me and Ryan…..lucky lucky girl! As we were heading down the last run we came across Marc's girlfriend, she was so excited to see Marc and his group and was far too busy waving that she forgot how to snowboard and decided to catch her front edge and face-plant, luckily she came out uninjured! Later that evening at dinner we all had the pleasure of experiencing something that is a seriously rare event, Stephen's batteries actually died and he stopped talking!!! Sadly this only lasted around 10 minutes so he should be fully charged again for the rest of the course!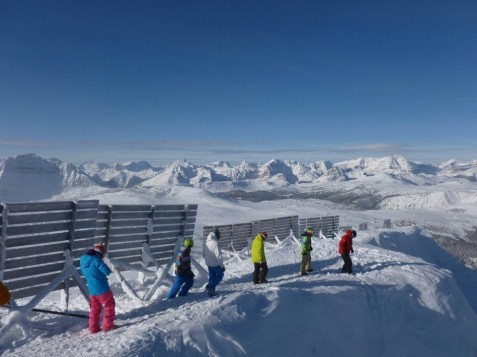 Tuesday
Off to Norquay for the day, yay! We all had a tech session in the morning where we went though some stretches and also the most common injuries for skiers and snowboarders. Everyone established that snowboarders seem to always get the 'real' kind of injuries and that everyday we're out there we're putting our lives on the line, where as skiers only really have to worry about things like 'Skiers Thumb' (This seemed to occur when they dropped one of them sticks they like to hold in each hand, and their thumb gets bent a little when trying to recover it) Think they need to man up a bit! The park group once again spent the entire day doing laps of the park and practising. They all discovered Rich was an absolute slave driver beginning the lesson about 45 minutes earlier than usual and only letting them have enough time to scoff some food at lunch then get straight back out there! Marc's group began working on some Level 2 skills, he decided to give us 1 run riding switch normally on a fairly gentle slope, some of us managing to pick it up properly and others were still getting there, and then chuck us straight into doing Level 2 turns also in switch which proved more difficult! Overall a pretty average day! In the evening a lot of us decided to head to the cinema in town as it was cheap Tuesdays….once again we underestimated how busy it was going to be, turning up about a minute before the film only to find out it was sold out. The girls managed to get in and leave us stood outside though, pondering as to what to do! Obviously we decided to go to the pub for beers, oh, all except Dave who forgot his ID like a tool and had to walk back alone to get it. We managed to get into the later showing for the film, Safehouse, only to be sorely disappointed, I think almost half of us fell asleep about two thirds of the way through!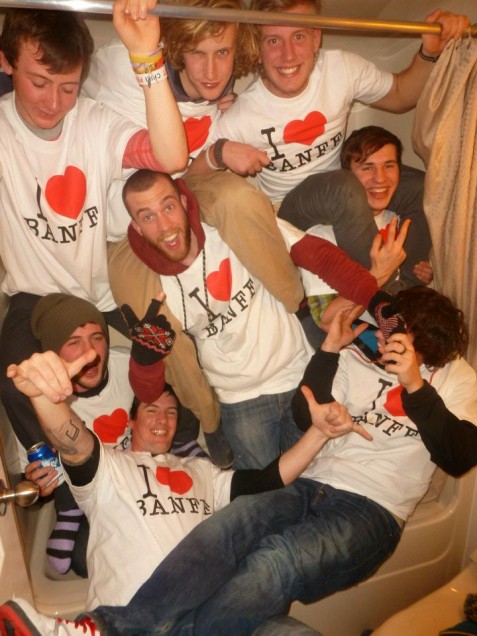 Wednesday
Woke up this morning to find out that Sunshine had had 30cms of snow, unfortunately we were at Lake! I was extremely tempted to skip that days lesson and go to make the most of the powder but decided with Level 2 coming up I'd better not, worked out for the best anyway as I heard later on that day that a load of the lifts at Sunshine had closed due to the weather! Still had a pretty good day at Lake, we spent the morning shredding pow which was pretty awesome! Melina decided to become a tree hugger on her first run subsequently injuring her knee and causing her to have to sit in the lodge and wait for the bus to take her back to Banff! The park group once again spent the afternoon practising whislt Marc's group, including me, carried on making the most of the powder. We went up the dreaded Parma drag lift, always fun, and smashed it down the Parma bowl which had been barely touched and was pretty deep! Hit a lot of tree runs as well which were also full of powder that no-one else had managed to find for some reason! In the evening a few of us went to play ice hockey with Mark. Bit of a poor turn out causing us to play 3v3 but we had a lot of fun non the less….. Rupert was making a lot of strange noises everytime he scored, we finally found something that Ben wasn't instantly good at and he spent most the game looking like Bambi on ice and Ryan, whilst toning down his superior hockey skills, decided to amuse himself by skating rings around me and banging his stick rather loudly on the ice causing me to panic and lose the puck each time! Oh and well done to Mikey and Alex for passing their Park Level 1 exam!!!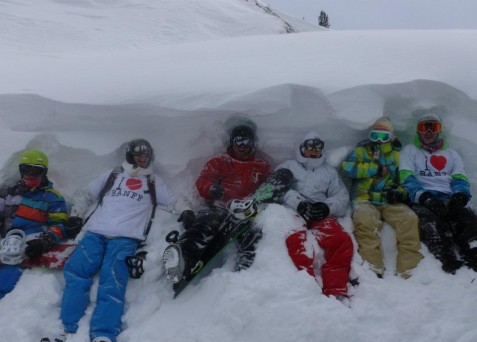 Thursday
Today was the day that the big group of boarders were starting their Level 1 Park exam so they all left early and headed to Lake Louise! We had a small group with Marc at Sunshine, once again we were making the most of the leftover powder there, we did a lot of shredding but Marc also decided to start pushing us again! He took us up to some pretty big and steep chutes and cliffs, one chute in particular that Marc spent a good few minutes standing at the top trying to gauge, ultimately just going for it looking a little unsteady as he reached the bottom……this made me and Mikey slightly nervous as we always know if Marc or Brian look unsteady/unsure on a particular feature then it's going to be much harder for us to deal with! Nevertheless we made it down alive, I manged to do a little back somersault towards the bottom but got up, brushed myself down and carried on! That night we had dinner at the Paddock, it was pretty popular the last time we went so everyone was looking forward to it again! A number of people, including me, turned up fairly late after not realising dinner was at 6 and not the usual time of 7. Luckily there was enough nosh left for us! After we all got involved in another pool competition and played some intense games of shuffleboard! Everyone seemed to be having fun, Jamie may be getting a little too excited on the shuffleboard table whilst Ian ended up having too many shandies and was slightly tipsy…..pretty entertaining though! As the majority of people began to dissapear, me, Rupert, Sarah and Alex stayed on for a little while longer and took part in our own girls vs boys competition. Embarrasingly enough for me and Rupert the girls beat us twice at shuffleboard and also, by default, beat us in a best out of 3 game of pool as well. We went home with our prides severely dented!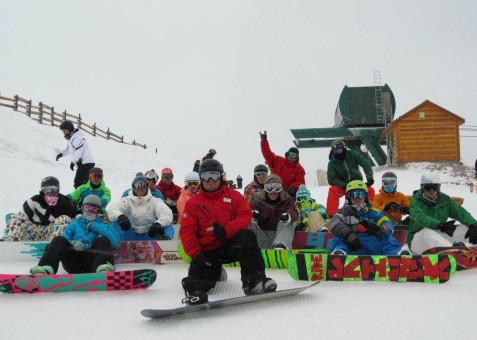 Friday
Everyone on the Park Level 1 exam passed today!!! Awesome news! They all returned to the hotel pretty happy with themselves and slightly merry after having a few beers. Steve apparently made friends with everyone on the bus by singing as loud as he could, makes a change! Obviously this was reason enough for everyone to celebrate and have a night out on the lash…..after numerous stern talkings to about our 'noise level' on pre nights out we decided to give the hotel staff a bit of a break and congregted on the common room and FINALLY for the first time in 7 weeks we didn't get into any trouble!!! Everyone was out the hotel by 11 as well, unbelievable! Turned into a standard night out anyway, Devils Gap and onto Dancing Sasquatch followed by a trip to the conveniently placed Maccy D's on the way home!
Saturday
Not much to report today really, standard hangover day which includes one of the famous breakfasts at Rickys followed by a day of lazing around watching films and falling asleep on each other, 6 to a bed!!! Everyone who was going Cat Skiing the next day wanted to stay rested and so it was an early night for most!
Sunday
CAT SKIING/BOARDING!!!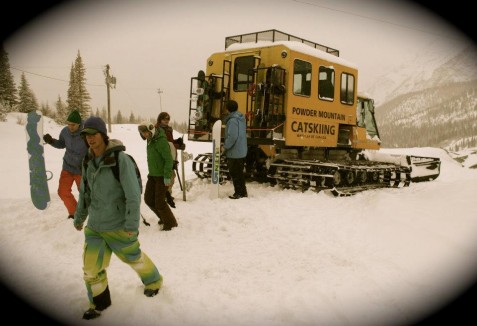 So a group of 20 of us got up at around 6am and headed off to Fortress Mountain for the day. We had the pleasure of being drove around the mountain by our own personal piste bashers and a couple of snowmobiles, not only that, we had the whole place just to ourselves! This meant fresh, untouched runs covered in knee deep powder! What else could you ask for!!! We managed to get in around 12 runs in total and I speak for everyone else who went when I say it was easily the best day snowboarding I've ever had! Unfortunately we had a couple of minor injuries within the group, Harry decided to join Melina on her tree hugging venture and also managed to injure his knee, whereas Ryan went for the opposite side of his body! From what I gather, he tried to find the ground under the snow only by using his backside, unfortunately all he managed to find was a rock and had built up slightly more speed than expected causing himself to turn his rear into a bit of a plum like colour! Mark brought out his noboard which was pretty sweet, only Mikey and Rupert managed to get a chance to have a go on it but from what I hear they even showed Mark up a bit which is pretty hard to do! All in all an awesome day, those who didn't go missed out BIG TIME! By the end of the day we were all shattered, we got back to Irwins, got some food and crashed! Good nights sleep ready for the next day where we were due to start our Level 2 training properly!
Come and join us next year!
Post a comment: